COMMENTARY
MORGANTOWN, W.Va. — Dana Holgorsen is only a signature away from becoming the head coach at Houston, which puts West Virginia athletics director Shane Lyons on the clock for the first major hire of his tenure.
Expect the search to begin with current head coaches from Group of Five programs. With the position likely capped at around $4 million annually, Lyons won't be fantasizing about poaching other Power Five coaches. Yet he will be seeking a proven leader who understands the full scope of managing staff, appealing to donors and being an open communicator with administrators. These weren't strengths of Holgorsen, who came to West Virginia without any head coaching experience.
"If you've been in that head coach's chair, even at a smaller school, you've learned some things through the process," an industry source told WVMetroNews late Monday.
With Holgorsen expected to make his Houston move official by Tuesday, let's spotlight the top six candidates for the vacancy he'll leave behind at West Virginia (including two who have defensive backgrounds):
Luke Fickell, Cincinnati
At age 45, Fickell completed his second year as head coach of the Bearcats by posting a 35-31 win over Virginia Tech in the Military Bowl on Monday. That clinched only the second 11-win season in Cincinnati's history.
A former nose guard at Ohio State, Fickell spent a combined 11 seasons as the Buckeyes' co-defensive coordinator under Jim Tressel and Urban Meyer, with a one-year stint as interim head coach during Tressel's messy collision with the NCAA. Ohio State's president throughout that tumultuous time was Mr. Bowtie himself, Gordon Gee, who reportedly respects Fickell.
Fickell's relationships with Ohio high school coaches would be pivotal across a state WVU frequently recruits.
Career record: 20-17 (1-1 in bowls)
2018 salary: $2 million
————————————————————————————————————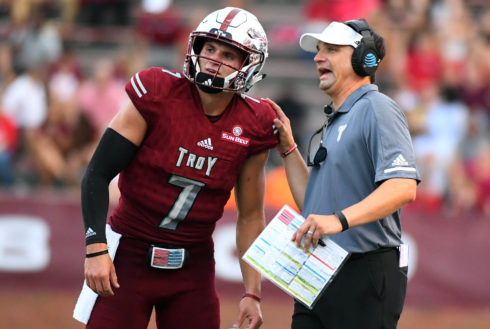 Neal Brown, Troy
A 31-8 three-year stretch made Troy's head coach a candidate for recent vacancies at Louisville and Kansas State. His runner-up finishes for those jobs could become a blessing for West Virginia, considering Brown's 2017 team won at LSU and his 2016 squad battled to a 30-24 loss at Clemson.
On route to this year's 10-3 mark, Troy won at Nebraska and ultimately beat Buffalo 42-30 in the Dollar General Bowl.
An Air Raid disciple who began his playing career as a slot receiver at Kentucky under Hal Mumme, Brown has coached offenses that produced big passing numbers. (The 2012 Texas Tech team that buried then-No. 5 West Virginia 49-14? Brown was calling the plays.) Recently he has re-emphasized the running game, with Troy running the ball 56 percent of the time this season.
At age 38, Brown possesses the disposition that works with players and boosters.
Career record: 35-16 (3-0 in bowls)
2018 salary: $810,000
————————————————————————————————————
Mike Norvell, Memphis
Continuing the momentum that Justin Fuente started, Norvell has won at least eight games in each of his three seasons at Memphis. His 2017 squad is one of only two in program history to end the year ranked in the AP top 25.
Like Neal Brown, he's young for an FBS head coach (age 37) and has called plays for explosive offenses at Tulsa and Arizona State. He also coached against West Virginia in 2011, serving a stint as Pitt's offensive coordinator during a 21-20 loss in Morgantown.
Career record: 26-14 (0-3 in bowls)
2018 salary: $2.6 million
————————————————————————————————————
Jason Candle, Toledo
He spent seven seasons as an offensive assistant at Toledo before ascending to head coach in 2016 when Matt Campbell left for Iowa State. Now the 39-year-old Candle has proven he can manage a program that's among the MAC's most consistent, highlighted by the Rockets winning the league title in 2017.
Might West Virginia be the next Big 12 program that looks toward Toledo to replicate the success of Campbell's hire? Candle worked for two seasons with current West Virginia running backs coach Marquel Blackwell.
Candle's has dynamic small-school roots: He played receiver on two national championship teams at Division III Mount Union and coached there on four more championship teams.
Career record: 28-13 (1-3 in bowls)
2018 salary: $1.1 million
————————————————————————————————————
Seth Littrell, North Texas
The former fullback and team captain on Oklahoma's 2000 national championship team, Littrell is a sought-after Group of Five head coach at age 40.
His play-calling helped North Carolina to 11 wins in 2015, exiting for UNT before Larry Fedora's program nosedived. Littrell also coached alongside Holgorsen at Texas Tech from 2005-2008.
Having coached in the Big Ten (Indiana) and Pac-12 (Arizona) also, Littrell has shown the ability to recruit anywhere.
Career record: 23-17 (0-3 in bowls)
2018 salary: $1.4 million
————————————————————————————————————
Bill Clark, UAB
Clark emerged as the feel-good story of the year in college football this season by leading UAB to the Conference USA title and an 11-3 record. Impressive heights for a program that didn't field a team in 2015 and 2016 after the university system dropped the sport.
After a storied high school coaching career in Alabama, Clark helped launch South Alabama's program as a defensive coordinator and spent one year as Jacksonville State's head coach with a team that went 11-4 and reached the FCS quarterfinals.
At age 50, he only possesses nine years of on-the-fiield collegiate coaching experience, but Clark's ability to win under extreme adversity at UAB makes him worth consideration.
Career record: 36-18 (1-1 in bowls)
2018 salary: $900,00 (jumps to $1.4 million next season)