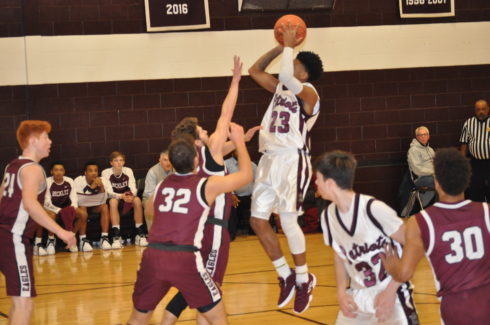 CHARLESTON, W.Va. — George Washington senior guard Bunky Brown is aggressive by nature. Good thing for the Patriots, who need every bit of the 6-foot-1, 175-pound Brown's scoring prowess as they look to continue their winning ways coming off last season's Class AAA state championship.
Playing without sophomore guard Mason Pinkett, who's been out injured of late, GW (8-1) has managed to win five straight, including most recently a thrilling 76-68 win against Woodrow Wilson.
Brown was instrumental in the victory, leading the Patriots with 28 points and 10 rebounds. Despite making only 7-of-22 field goal attempts, Brown managed to score more than his fair share of points after going 13-of-21 at the free throw line.
"We lost Mason, so we really have to play aggressive," Brown said. "And Beckley is a good team so we really had to step up and play aggressive against them."
Brown was equally effective in both halves against the Eagles, totaling 12 points and seven rebounds over the first two quarters to pace GW to a 31-29 halftime lead. When the Patriots fell behind 53-48 early in the fourth quarter, Brown managed 11 points the rest of the way, nine of which came on free throws.
"I have to switch it up a little bit. Mason played a key role in our offense," Brown said. "Sometimes I like to pound the ball too much, but we really have to move the ball more now with Mason gone."
Two days prior to the come-from-behind win against Woodrow Wilson, the Patriots picked up a 59-46 victory at Parkersburg with Brown's 27 points leading the way in another win without Pinkett.
"It's his whole demeanor. He'll take the shot in the first thirty seconds of the game and in the last four seconds of the game." GW coach Rick Greene said. "I've seen basketball and there's guys that want to shoot the ball, but then with thirty seconds to go in the game they want to start setting screens. 
"He has the mentality of he needs to be the one that shoots it and he has that confidence. He's tough enough mentally that he can deal with the consequences if it doesn't go in. He just knows how to win."
GW has several tough tests looming in which the Patriots may need Brown at his best to win, including Thursday's game at Spring Valley, while contests against Cabell Midland and Logan await next week.
The Patriots, whose only loss came Dec. 18 against Hurricane 74-73, have reeled off five consecutive wins since their only setback. When Greene's team gets performances like it did from Gus Eddy (12 points), Austin Castleberry (10 points, 7 rebounds) and Evan Hughes (10 points, 6 rebounds) against Beckley, it makes GW as formidable as any team in the state.
"Different guys stepped up and that's what I've told Bunky — 'Hey as good as you are, you can't do everything.' That should give them confidence and even more important that'll give Bunky confidence and trust and that's what we're working on," Greene said. "We have to trust each other and I thought we did that."
While the aforementioned trio are each juniors and Brown is the lone senior in the Patriots' regular playing rotation, he is no stranger to being a pivotal part of a winning squad at GW. Brown played a key role on last year's title-winning team that finished 23-3, earning Class AAA second-team all-state honors along the way.
But Justin Phillips, a first-team all-state selection a year ago, has since moved on and it's fallen on Brown to ensure the Patriots are in the mix for another championship.
Defense has also been a big component to GW's success, with the Patriots holding opponents to less than 50 points in five wins.
"We're doing pretty well," Brown said. "We have a lot to work on. Losing Mason early in the season, our bench really has to come alive now, but they have been and we'll be alright.
"It's about defense, rebounding and boxing out. We're not the biggest team out there. We have to box out, get rebounds and play our game — not fight into the other team's offense."