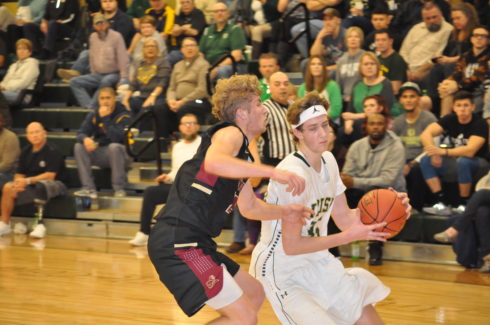 CLARKSBURG, W.Va. — Notre Dame scored the final 14 points of the first half then carried that momentum into the second half to claim a 62-45 victory over Trinity in a Class A showdown on Thursday.
"That was our best team defensive performance of the year. To hold that team to 45 points, that's good defense," Irish coach Jarrod West said. 
The Irish (16-2) built an early 9-0 lead in the game's first 1:42, only to see the Warriors (12-4) get nine first-quarter points from Joel Robertson to rally for a 16-15 lead entering the second quarter.
Daniel Woods made back-to-back field goals inside to up the Trinity lead to 22-19, but the Warriors never scored again in the first half.
Instead, the Irish answered with inside buckets from Joel Maurer and Gabe Zummo to take the lead for good. Tyler Hardesty then connected on a corner 3-pointer, before Jaidyn West's layup stretched the ND lead to 28-22.
Before halftime, Maurer converted a putback and Hardesty drained another 3 just seconds before the buzzer, sending the Irish into the intermission with an 11-point advantage.
"We're up 22-19 and feeling good and then we just start chucking shots and stop playing defense," Trinity coach John Fowkes said. "We let Hardesty get on a little run there himself. We know that they're great shooters and you can't lose them and that's what happened."
Robertson had 11 of the Warriors' 22 points at the intermission, but Trinity had made only 7-of-22 field goal attempts.
At the start of the second half, Trinity looked as though it was primed to make a run when Logan Zervos' 3 was followed by Woods' layup to trim the deficit to six.
But Nate Helm and Maurer each finished from close range to push the lead back out to 10, before West and Zummo scored four points apiece in the latter stages of the quarter to key an 8-4 run that allowed ND to lead 49-36 entering the fourth.
"We did a good job of trusting our teammates," coach West said. "When Joel's on the floor, he completes us. When he's not on the floor, we can't run as much offense inside-out."
The Warriors never got any closer over the final 8 minutes, as Zummo scored five points in the first 2:30 of the frame to put any thought of a comeback to rest.
"I feel like the kids thought they had to go get all those points back in one possession," Fowkes said. "We weren't very patient and we threw the ball around the gym."
Zummo led four Irish players in double figures with 17 points and added nine rebounds, while West followed with 16 points, six assists and five rebounds.
"Gabe did a great job being patient, not settling and getting to the basket," coach West said. 
Maurer and Hardesty scored 10 points apiece and Helm chipped in with eight as the Irish starting five scored all but one of the team's points.
Notre Dame finished with 10 turnovers, but six came in the fourth quarter.
Woods' 14 points and seven rebounds led Trinity, while Robertson and Briston Bennett scored 11 each in defeat.
The Warriors finished with 17 field goals and 16 turnovers in their second loss of the season to the Irish.