CHARLESTON, W.Va. — The second of two free throws from University guard Kaden Metheny fell off the rim and into the hands of Martinsburg's Joe Bokey.
With the top seed Bulldogs trailing by two and 15 seconds remaining, Bokey turned and called for a timeout.
One big problem — Martinsburg didn't have any left.
The result was a technical foul that led to K.J. McClurg making two free throws to help seal University's 51-45 victory in Saturday's Class AAA title game at the Charleston Coliseum.
The win marks the Hawks' first state championship in program history.
"It's kind of surreal. I'm almost speechless. Other than my daughter being born, this is the happiest day of my life," UHS coach Joe Schmidle said.
No. 2 University (24-4) led for the final 6:57, but never by more than eight.
The Hawks' biggest advantage was 34-26 at the 1:51 mark of the third quarter, but the Bulldogs (27-1) got a tip-in from Qualeke Bush just before the third ended to cut their deficit to 38-33.
Martinsburg got to within one point on three separate occasions in the fourth quarter.
The Bulldogs' Trey Segar had a tip-in with 4:51 remaining to cut the UHS lead to 42-41, but Hawks' guard Kaden Metheny answered with a pull-up jumper.
After Grant Harman's pull-up jumper made it a one-point game, Rodney Bucklew scored inside.
Harman again made it a one-point game on a layup with 20 seconds left, before Metheny split the two free throws.
Then came the technical and a pair of clutch foul shots from McClurg.
"I was nervous," McClurg said. "Those were the biggest shots of my life. We're up two, and coach said, 'go over there and shoot them.' I went up there, did what I usually do and they both went in."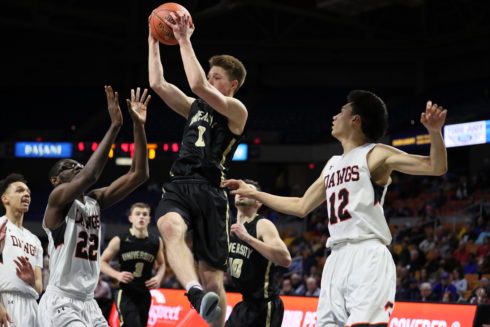 The Bulldogs still had an outside chance as they were able to force a turnover on the ensuing inbounds play. But Teddy Marshall's 3 fell off the mark, and McClurg made two more foul shots with 10 seconds left for the final margin.
"I thought they did a great job on defense," Martinsburg coach Dave Rogers said. "They tried to switch everything they could and there were times we weren't as patient as we should be to try to get the shot we need. You have those nights, but you hope it doesn't happen on this night.
"They have pretty good guards that can control the game."
Martinsburg built an early 11-6 lead that was cut to one point after McClurg and Metheny accounted for the final field goals of the first quarter.
McClurg's jumper with 3:47 to play in the first half upped the UHS lead to 19-14, but the Hawks never scored again in the half and settled for a one-point lead at the break.
Marshall made a layup to give Martinsburg its last lead 36 seconds into the third quarter.
The Hawks responded with 14-6 run over the next 5:16 and went up 33-26 on a Metheny 3-pointer 2:08 before the fourth.
"We proved a lot of people wrong that said University could never be sitting here as a Class AAA champion," Schmidle said. "It feels good to kick down that door."
McClurg had 20 points and eight rebounds, while Metheny finished with 15 points, seven assists and five steals.
Bucklew added 10 points on 4-of-6 shooting in his final high school game.
Each of the three played all 32 minutes.
"I was exhausted personally, but at that point you have push through it," Metheny said.
Martinsburg made only 16-of-59 shots for 27 percent shooting.
"We had our chances," Rogers said. "When you only shoot twenty-seven percent, I'm not sure how many games you're going to win."
The Bulldogs had a significant 41-29 rebounding advantage. Segar, a reserve, pulled down 15 rebounds, including 11 on the offensive end.
Marshall had 17 points, but was the lone Bulldog in double figures.
"We knew we had to force them into a half-court game," Schmidle said. "We're pretty good on defense and we take a lot of pride in it."
CLASS AAA ALL-TOURNAMENT TEAM
Rodney Bucklew, University
K.J. McClurg, University
Kaden Metheny, University
Teddy Marshall, Martinsburg
Grant Harman, Martinsburg
Chandler Schmidt, Cabell Midland
Bunky Brown, George Washington
Kerion Martin, Capital
Game highlights
Instant analysis
Postgame press conferences