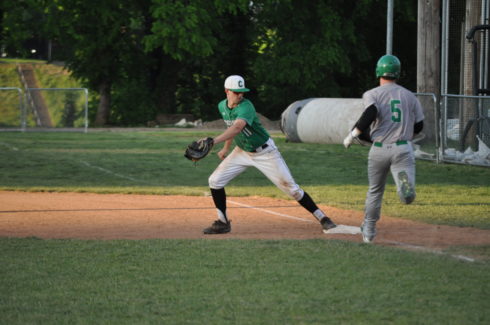 CHARLESTON, W.Va. — Winfield baseball coach Will Isaacs likes to think his team gives its best effort throughout a game regardless of the score.
On Tuesday against Class A No. 2 Charleston Catholic, that paid off in a big way for the Class AA No. 4 Generals.
Trailing 7-2 in the sixth inning, Winfield took advantage of a two-out error that prolonged the frame and ultimately put up an eight spot to rally for a 10-8 victory at Triana Field at the University of Charleston.
"That's the standard we have in our program," Isaacs said. "We're not going to quit. If we're down 15-0, we're going to keep playing and trying to keep doing things our way, because we're trying to get ready to win in the postseason.
"At this point in the season, it's a grind. But we did a good job of sticking with what we try to do. Sometimes it works and sometimes it doesn't, but we were fortunate that tonight it did."
The sixth began with Winfield's Landen Fairchild drawing a walk and moving up to third on Nick Edwards' double. After Peyton Gillispie's sacrifice fly scored Fairchild, Irish pitcher Evan Sayre struck out Peyton Moulder for the second out.
Andrew Whitney followed by reaching on an error after the ball he hit to third was thrown away, allowing Edwards to score and the Generals to trail 7-4.
The miscue ended up meaning much more, and after Hunter Vance singled and Peyton Stover drew a walk, Sayre was removed in favor of Marc Spiegel.
Spiegel, who moved to the mound from left field, may not have been fully warmed up and was greeted by a bases clearing double from Sam Ingram that tied the game at 7.
"What we try to do is battle the starter and get to the bullpen and try to do damage with the bullpen," Isaacs said. "It worked out today."
Hunter Morris and Fairchild then drew back-to-back walks, the latter of which resulted in a wild pitch on ball four that brought home Ingram for the go-ahead run.
Edwards' infield single later in the sixth allowed Morris to score, while a throwing error on that play brought Fairchild home for a 10-7 Winfield lead.
That was plenty of support for relief pitcher Nick Holtzapfel, who pitched a scoreless sixth before running into some trouble in the seventh.
Spiegel's infield single with one out was followed by Marshall Pile reaching on an error, which brought the tying run to the plate with one out. Spiegel ended up scoring on a wild pitch with two outs, but Holtzapfel induced a groundout to second by J.W. Armstrong to end it.
"Obviously we gave that game away," Irish coach Bill Mehle said. "A lot of baseball games are lost by one team scoring more runs in one inning than the other team scores in the entire game, and they almost did that today if we don't push one across in the seventh."
Winfield (21-6) scored the game's first run on Fairchild's single, which brought home Stover after he led off with a double.
The Irish (20-7) immediately responded and got even in the first on a Thomas Blaydes single, which scored Pile.
Charleston Catholic then scored five runs with two outs in the second to go on top, 6-1.
Pile's triple to center allowed Spiegel to score for the Irish's first lead of the game. They added to it in the next at bat when Parker Ross singled to right to score Pile. Also in the second, the Irish got a two-run single from Armstrong and an RBI single from Will Strickland to expand their early advantage.
Vance scored the Generals' second run in the third inning when he came home from third after Morris struck out, but the ball got away and forced Strickland, the catcher, to throw to first to complete the out.
Charleston Catholic got that run back in the fourth when Sayre delivered a two-out single to score Blaydes, which ended Fairchild's outing on the mound.
Holtzapfel picked up the win after allowing one run with three strikeouts in 3 1/3 innings.
"He's fearless," Isaacs said. "He's a competitor and he battled."
Edwards finished 2-for-4 and was the only Winfield player with more than one hit.
The Irish finished with 15 hits, including 12 off Fairchild. Blaydes had three hits, while Pile, Armstrong, Strickland and Spiegel added two apiece in the loss.
"They threw what I would deem their (top two) pitchers against us, which was what we were hoping for," Mehle said. "That's why we schedule that way so that we can go into the postseason next week having seen some quality pitching."