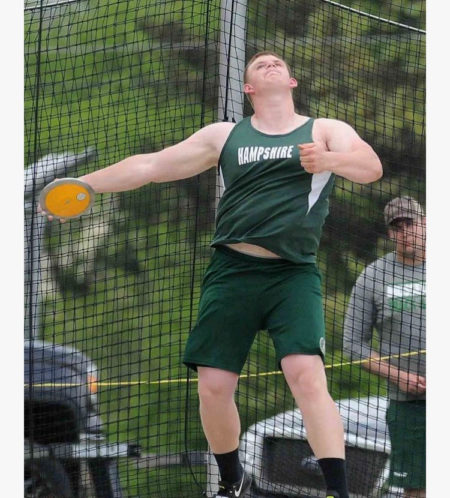 ROMNEY, W.Va. — Hampshire's John Hicks hopes to end his high school track and field career with another state championship in the discus this month.
If Hicks is able to duplicate his performance from the Cardinal Classic at Spring Mills on April 20, he'll have no problem doing so.
The Hampshire senior set a new state record with a throw of 190-feet, 1-inch, clearing the old mark of 186-9, set by Poca's Christian Buckley in 2015.
"I definitely knew it was possible," Hicks said. "I've got in the 200s at practice before, but I couldn't put it all together in a meet. I finally got it at Spring Mills. It was a great accomplishment for me and a goal I've had for quite some time now."
Ahead of the Cardinal Classic, Hicks' best throw this season had been 169-11, but the Trojans' senior felt good about his chances of topping that mark entering the meet.
"Two weeks prior, I was in a little bit of a slump and wasn't throwing the greatest," Hicks recalled. "The beginning of that week, I sought out some coaching and worked real hard each day. 
"I began to see better results with my throwing and that gave me confidence going into that Saturday."
Hicks' throw easily cleared his mark from last year's state meet, which at 172-11 was plenty good enough to take home the title.
Following the Cardinal Classic, Hicks went on to compete at the famed Penn Relays and placed 13th in the discus with a throw of 162-4. Had he duplicated the throw from the Cardinal Classic, Hicks would've finished third at the Penn Relays.
"I threw 132 there last year, so I held myself together a little bit better this year," Hicks said. "It's quite a shock being from West Virginia and going to Philadelphia where you're surrounded by all these people and skyscrapers."
Hicks is undecided on what college he will attend but is sorting through several Division I offers. In the meantime, he's enjoying his final month as a Trojan.
"It hasn't sunk in yet. I was just thinking about that the other day and it's almost over," Hicks said. "It seems like my freshman season was a few weeks ago and it definitely doesn't feel like it's been that long."