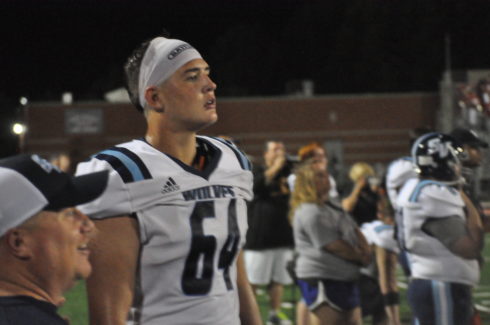 MORGANTOWN, W.Va. — It's only natural to expect less from Spring Valley's football program in 2019 and Timberwolves' coach Brad Dingess understands that.
Dingess, however, knows his staff nor roster will lower the bar for a program that's 36-6 and has finished Class AAA runner-up the last three seasons.
"Our kids have the mentality that they expect to win every week," Dingess said. "We want to keep that going. That's every coach's goal is to make sure that your program is at that level and we've gotten up to that. 
"We have to keep it going. Our kids are training and we have high expectations."
Dingess is plenty aware the Timberwolves lost perhaps the most successful senior class in the football program's history, one that included Graeson Malashevich, last year's runner-up for the Kennedy Award. It also featured a pair of Division I Power 5 Conference linemen in Doug Nester and Zach Williamson, primary ball carriers Isaac Howard and Owen Chafin and quarterback Will Adkins among others.
Now it's about finding replacements for a class that was a big part of Spring Valley reaching the Super Six each of the last three years.
"Who are we going to hand the ball to when it's third-and-2? That's a big thing," Dingess said. "We had Isaac Howard, Owen Chafin and Graeson last year in the backfield, and all those guys were our main ball carriers." 
A good place to start is athletic quarterback Nate Ellis, who saw action behind center and at wideout a year ago.
"We have Nate back at quarterback and he rushed for about 500 yards. We have some guys we feel like can be Friday night guys carrying the football," Dingess said. "It's kind of a question mark once the games start though."
Whoever develops as the primary ball carriers will have the benefit of running behind Wyatt Milum, a 6-foot-7, 265-pound junior likely to be the school's next lineman to go on to play major college football.
Milum has recently added Alabama and Michigan State to a lengthy list of impressive Division I offers.
"He's long and he plays with a little bit of edge," Dingess said. "He's as good as advertised. It's fun to watch him develop. Last year, he was about a 235-pound kid playing tackle. He's put on about 30, 35 good pounds this year and gotten a whole lot stronger."
The Timberwolves showed flashes of what they're capable of last weekend at West Virginia University's 7-on-7 camp.
Although Spring Valley utilizes a Wing-T offense that is predicated on running the football, the Timberwolves were the last in-state team playing at WVU after advancing from the loser's bracket to the semifinals.
"We're a power football team, so we're probably not going to excel too much offensively at this kind of stuff. But if we can add a little wrinkle that's nice," Dingess said. "We're just trying to give our kids, especially on the defensive side of the ball, some good looks. Mostly stuff that we don't do and can't reproduce in practice. That's a big reason we do these 7-on-7 things.
"We've been concentrating on fundamentals and we have some growing up to do. We have some good football players, but it's kind of like a puzzle piece trying to get the right guys in the right spots."