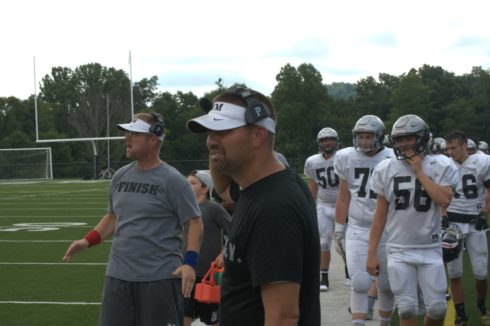 RACHEL, W.Va. — Not since 2014 has North Marion's football team finished the year with a losing record.
While the Huskies have made major strides the last four seasons, they've qualified for the postseason only once over that time.
North Marion has won 11 games the last two seasons, including a 6-4 mark in 2017, yet it hasn't reached the playoffs since a 6-4 regular season led to a No. 14 seed in 2016.
"We feel good about our numbers, but we have to continue to build," Huskies' head coach Daran Hays said. "It's no secret we've done a pretty good job competing and pulling ourselves up to the upper-middle of the (Big 10) Conference. The next big step for us is we have to figure out a way to compete better with those big three in our conference — Bridgeport, Fairmont Senior and Byrd."
The Huskies will get their crack at each of the three aforementioned conference foes, who combined to make up half of the top six seeds in last year's Class AA playoff bracket. That's part of North Marion's quirky 10-game schedule that features only Big 10 foes as opponents.
With 56 players, Hays expects the Huskies' roster to be comparable, if not bigger, than each opponent.
Still, North Marion is searching for more depth ahead of its Aug. 29 season opener against East Fairmont.
"We know we have a good bit of skill coming back," Hays said. "We feel really good about our offensive line. We like to be where we have 25 guys overall we feel good about on a Friday night and we're probably closer to 20 right now."
Quarterback Gunner Murphy returns after splitting time with Dalton Malcomb a year ago. 
"Gunner got so many significant snaps last year," Hays said. "The reason why the quarterback position is such a big deal is if you can keep a hold of the football, that's half the battle. Last year we stuggled with turnovers. Already, he's making way better decisions with the ball. He's more physical in terms of running and he put on 10 pounds in the weight room."
Murphy will not have the luxury of handing off to Desmond Fluharty, a second-team all-state tailback in his senior season a year ago. The Huskies do, however, have a stable of backs they're comfortable utilizing behind a line that returns three starters. Additionally, Hays believes his team will have its fair share of weapons on the perimeter.
"Losing Dez is obviously what everyone is going to see, but I think our dynamic playmakers are now going to be in the slot more — like Jahkari [Mesidor] and Tariq [Miller] outside," Hays said. "Those are guys that can get their hands on the ball and really go. Michael Garrett, a track and basketball kid, came out this year. I think he'll emerge as an outside receiver and end up playing a really good role for us. He's a state champion track guy. 
"I also like our running back corps. We have guys that aren't as dynamic, but are more workhorse like Ricky Newbrough and Kaden Pavalok. Ricky's a 6-1, 220-pound kid that's a 300-pound power clean. So he's a dude. We have to try to keep him healthy, but he can shoulder the load."
Newbrough and Ty Thorne will be counted on to lead the defense from their linebacker spots. Hays said the coaching staff is still working to figure out who best fits where in the secondary, but Jacob Clevenger's return from injury will provide a reliable and experienced strong safety/outside linebacker.
"I really love this team. They work together and complement each other well," Hays said. "There's so much balance between the classes. Our junior class was our tiny one at six, but they recruited a little bit and we're up to nine. The senior class is at 14, which is good. The freshmen are at 21, which you're always jacked about that. So there's good class balance. You see longevity wise that you have the potential to keep something really going."