CHARLESTON, W.Va. — It appears two new sports betting apps will be ready for operation in West Virginia before the college football season gets into full swing a week from Saturday.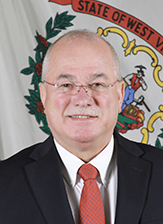 "I can say we're getting very close," state Lottery Director John Myers told reporters Wednesday following the monthly meeting of the state Lottery Commission.
Myers did not name the companies and casinos involved but it's believed to be DraftKings at Hollywood Casino in Charles Town and FanDuel at the Greenbrier Resort casino.
"Testing is completed on one and ongoing on another. I don't have an official roll-out date yet," Myers said, adding he does believe it will be before the first full slate of college football games on Aug. 31.
The first sports betting retail sites opened in casinos in West Virginia a year ago. Myers said it's not surprising its taken another year to get the apps developed.
"We've wanted to see if up and running as much as anybody. I know there's some concern that it's taken a while but when you do something for the time you have to dot the i's and cross the t's. Now we think we're there," Myers said.
The apps for casinos in West Virginia will require the person using the app to be physically in West Virginia.
Delaware North, which owns Wheeling Island Casino in Wheeling and Mardi Gras Casino in Cross Lanes, was the first company with a mobile sports betting app in West Virginia but had to pull the plug on its BetLucky app in March after a dispute between its management services provider Miomni and a third-party, technology vendor. Delaware North later terminated its contract with Miomni. It's now had to start all over with sports betting.
The BetLucky app did well while in operation. It brought in more than $210,000 in wages at Mardi Gras in February and nearly $145,000 in bets that month at Wheeling Island. The app betting outnumbered the money placed down at the sportsbook locations at both casinos that month.