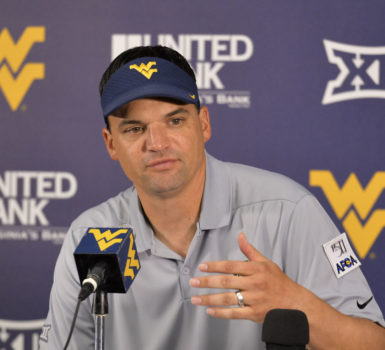 Mountaineer Coach Neal Brown's "Trust the Climb" mantra took a tumble Saturday.
The 38-17 loss to Texas Tech was not simply a misstep or slip, it was a face first slide down the mountainside that left WVU fans bloodied and bewildered.
Yes, this is Year Zero (my term), and yes Dana Holgorsen's half-hearted recruiting efforts were only eclipsed by his aloofness, and yes Texas Tech's use of tempo kept the Mountaineer defense on their heels, but…
Las Vegas didn't expect this.  The Red Raiders were only a two-point favorite.  Fans didn't expect this. They filled the stadium in hopes of witnessing the beginnings of a turnaround.  After all, Coach Neal Brown did say the Mountaineers would be better in November.
But they aren't, at least not yet.
As Texas Tech rattled off score after score—five touchdowns on their first five possessions—Mountaineer Nation was left stunned.  The crowd can help get a team back in the game, but they must have something to cheer about, and the Mountaineers simply couldn't provide that.
Brown deserves credit for reading the crowd and being self-aware.  At the end of his post-game press conference he spoke candidly about the dreadful performance and the importance of fan support.
"I appreciate them being here. They were here for our Mantrip at 9:30 in the morning when (the temperature) was in the 20s and 30s," he said.  "They were here through the first half, and in the second half a high percentage of them stayed. That does not go unnoticed."
Brown then threw down the gauntlet.
"But we have a high percentage of guys that will be back, not only for one year but three years. They will be significantly better.  We'll do a better job coaching them" he said.  "And there will be a product on the field that will match the fans we have."
Brown is an easy guy to support, especially after eight years of Holgorsen.  Brown's off-season commitment to embracing the state and Mountaineer fans built a reservoir of goodwill he could draw from when the losses begin to mount.
He's going to that well now and, based on last Saturday's performance, he will have to return to that well several more times before this season comes to a merciful conclusion the day after Thanksgiving in Fort Worth.
It could be worse.  Holgorsen could still be the head coach and Athletic Director Shane Lyons could be trying to scrape up the $6.9 million necessary to buy out his contract this year. But with Holgorsen's decision to leave for Houston and the hiring of Brown, WVU is really one year ahead of schedule.
Brown's post-game comments show he gets the connection between the team and Mountaineer Nation; one could not exist without the other. They are linked in the joy of victory and the disappointment of defeat.
His statement about the future was clear and definitive: "There will be [emphasis added] a product on the field that will match the fans we have."
Brown's mission statement of "Trust the Climb" is as much for the fans as it is for the players.