MORGANTOWN, W.Va. — News and notes from around West Virginia as the high school football postseason begins Friday.
Martinsburg and Cabell Midland protecting perfection in Class AAA
The beat rolls on at Martinsburg where the top-seeded Bulldogs have extended their state record win streak to 52 games. Their closest margin of victory was in their 35-point win at Salem, Va. Martinsburg (10-0) will host No. 16 Preston (4-6) Saturday afternoon. "Our guys know what to expect," said Martinsburg head coach David Walker. "They expect to be here and they expect to keep moving on. It is not arrogance, it is just confidence that they have. They go to work and they understand what is at stake."
Cabell Midland (10-0) has successfully navigated through the gauntlet of the Mountain State Athletic Conference. The Knights defeated Spring Valley, Hurricane and Capital by seven points or less in September. They cruised to victory over their final five games and will face a rematch with No. 15 Riverside (4-6) Saturday. "It is tough," said Cabell Midland head coach Luke Salmons. "With the teams we play, to overcome a lot of things that we have been through this year with injuries… they have been resilient."
Spring Valley seeks fourth consecutive trip to Wheeling
While Martinsburg is seeking their fourth straight trip to the Super 6, Spring Valley is looking to do so same. The No. 3 Timberwolves (9-1) will host No. 14 Hurricane (4-6) to open up their postseason run. "Our senior class has played twelve extra weeks than everybody else," said Spring Valley head coach Brad Dingess. "That's like having a redshirt season. Those kids have had quality practice time over the last three years. And it showed this year when we had to start playing younger kids."
Parkersburg South and Musselman could stage quality quarterfinal
If they can avoid first round upsets, No. 5 Musselman (8-2) will visit No. 4 Parkersburg South (9-1) next weekend in the quarterfinal round. The Applemen will host No. 12 Parkersburg (5-5) while the Patriots welcome No. 13 South Charleston (4-6) to Erickson Stadium.
"This is the fourth straight season we have finished in the top five going into the playoffs," said Musselman head coach Brian Thomas. "We are on a pretty good run right now which says a lot for our players and our staff."
PSHS rebounded from their first loss to Wheeling Park in Week 10 by defeating city-rival Parkersburg. "I thought our kids re-channelled their focus after the (Wheeling) Park game," said Parkersburg South head coach Nathan Tanner. "We had a great week of practice and the kids came out and hit on all cylinders."
Preston faces long road trip, long odds in opener
The Preston Knights are making their first postseason appearance since 2008. They will visit Martinsburg on Saturday. PHS head coach Jonathan Tennant is hopeful that a playoff berth can be a building block for a program that has struggled with low numbers of players in recent years.
"We dressed 36 kids in our last game against Brooke," Tennant said. "That's not enough to have practice. It is not enough to have a consistent junior varsity program. We hope to get ten or fifteen more kids out to the program. And if we do that, we'll be in good shape."
Polar Bears ready for return to 'Thunderdome'
Class AA No. 1 Fairmont Senior (10-0) owns the state's second-longest win streak at 24 games. They will host No. 16 Winfield (7-3) Friday. "For a while now, we have called the playoffs 'Thunderdome'," said Fairmont Senior head coach Nick Bartic. "Because two men enter and one man leaves in terms of your season. We approach it as a round-by-round type of contest."
Poca's remarkable ride continues
From 2012-2017, Poca won five games. They are 19-2 since. The No. 3 Dots (10-0) will host No. 14 North Marion (7-3) Saturday in the opening round. "There's a lot of goals we have accomplished so far," said Poca head coach Seth Ramsey. "Winning the (Cardinal) Conference and being able to go undefeated for the first time since 1978, we've accomplished a lot but we still have to keep our minds where they need to be."
Similar styles for Keyser and Liberty Harrison
No. 5 Keyser (9-1) will host No. 12 Liberty Harrison (8-2) and both teams feature run-heavy, ball control offenses. "In a day and age where everybody is spread out and in the shotgun, teams like us and Keyser are getting a little bit more few and far between," said Liberty head coach A.J. Harman. "I think it will be fun and it will be a challenge to see how tough we are."
"They run Stick-I, so we have seen that before," said Keyser head coach Sean Biser. "They've got some nice backs and they come off the ball really hard."
Bridgeport posts seventh consecutive regular season with at least nine wins
No. 2 Bridgeport (9-1) finds themselves in a familiar position with the opportunity to host multiple postseason home games at Wayne Jamison Field. The Indians will host No. 15 Lewis County (7-3) Friday. "I don't think we played as well as we probably should have early in the year," said Bridgeport head coach John Cole. "A one-loss season is a really good season and I am proud of them. But all that is in the past now."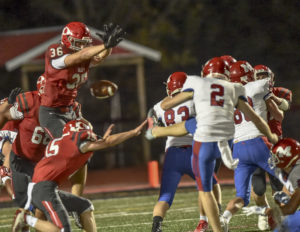 Class A defending champs ready for road challenges
For the second time in three seasons, two-time defending state champion Wheeling Central Catholic (6-4) enters the playoffs as the No. 10 seed. The Maroon Knights have played a challenging schedule featuring several top teams from Eastern Ohio. "Seeding can be a little bit deceiving," said Wheeling Central head coach Mike Young. "I like our chances in terms of the schedule we played because it helps us prepare to play in this postseason."
Central visits No. 7 Tolsia (7-3) Saturday afternoon.
Modesitt making an impact at Williamstown
No. 5 Williamstown (8-2) is once again a higher-seeded team in the Class A playoffs. The Yellowjackets will host Tug Valley (6-3) in their opener. First-year starting quarterback Brayden Modesitt won the job in training camp and has progressed throughout the year.
"We trust our quarterback a little bit more," said Williamstown head coach Terry Smith. "He really didn't play a whole lot before this. Now we are ten games into the season and so he is not really a junior or a first-year quarterback. We have let him change plays at the line of scrimmage a little bit more and let him throw it a little bit more."
2018 semifinalist Midland Trail fighting injuries
Midland Trail won their first twelve games in 2018 before falling to Williamstown in the semifinals. The Patriots (6-4) earned the No. 9 seed this year and they will travel to face No. 8 East Hardy (7-3). Trail graduated a large senior class a year ago and Frank Isaacs' club has been beset by numerous injuries this year.
"We have had eight starters out from the beginning of the season," Isaacs said. "We will go into the playoffs probably short six starters. So it is frustrating. At the same time, you have to admire the kids that have been stepping up. A lot of Class A teams at this point would love to be where we are at."
Route 50 rivals lead Class A field
Class A No. 1 Doddridge County (10-0) has won 28 consecutive regular season games and they have the opportunity to host as many as three postseason games at the brand new Cline Stansberry Stadium. The Bulldogs will host No. 16 Madonna (6-3-1) Saturday.
"It is a good feeling," said Doddridge County head coach Bobby Burnside. "The players and coaches have worked real hard to get in this position. The regular season is over so just like everyone else, it is perform or be eliminated."
Fourteen miles to the west on Route 50, No. 2 Ritchie County (9-1) enjoyed their best regular season since going 10-0 in 1995. From 2014 to 2017, the Rebels had a stretch where they won 2 of 34 games. In their second season under head coach Rick Haught, Ritchie has posted a mark of 16-5.
"Some kids just know how to win more than others," Haught said. "That seems to be what we have going for us right now. They are a confident group but they are not a cocky group. The Rebels will host No. 15 South Harrison (6-4) Friday.
Greenbrier West revived with return of first head coach
The most dramatic turnaround season in the state has been authored by Greenbrier West. After winning just two games in 2018, the No. 4 Cavaliers posted a 9-1 record this fall. They will host No. 13 Tygarts Valley (7-3), who has qualified for the playoffs for the first time since 2005.
After fifteen years away from coaching, Toby Harris returned to GWHS. He led the Cavaliers to their first postseason appearance in five years. Harris launched the program and was their first head coach when the school opened in 1968.
"I am having a good time," Harris said. "There's no pressure on me at my age. I have been retired for fifteen years and saw this opportunity and thought I might try it. The Good Lord has been good to me and my health is good. So I have been having a good time."