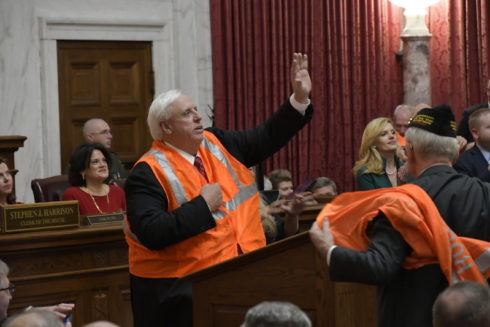 I dare say not too many Governors—no, make that no Governor—makes a state of the state address like Jim Justice.
If you watched and/or listened to Justice's speech Wednesday night then you know what I'm talking about. Yes, he had some notes, but It was basically one-hour and twenty-minutes of Jimmy riffing.
Listening to him is like getting caught up a flood-swollen river overflowing its banks—there's just so much, and you don't know where it's going.
The hyperbole swirls in his verbal currents. Good news is "unbelievable"—a word he used repeatedly—or "beyond belief."
There is an inherent danger is categorizing every achievement or opportunity as "unbelievable." After awhile, the listener is dulled by the embellishment.
His butchering of the pronunciation of names of honored guests was embarrassing. If we're going to be the "education state" as he has previously proclaimed, then practice the names for goodness sake.
Republican supporters shrug. "Hey, that's Jim Justice," they say, and that's true. Has there ever been a West Virginia Governor who laid his emotions so bare? Justice seems to have changed very little, if at all, since he won the 2016 election.
He is slightly more politically savvy. That was evident when, during his speech, he made a point of praising the legislators and state leaders. Early on in his term Justice was often publicly frustrated with lawmakers who refused to kowtow to his wishes.
His appeal is his huge personality and his optimism. He fancies himself as the "coach" of the state and players want to know that the coach believes in them, cares for them.
When Justice says, as he did Wednesday night, to the people of West Virginia, "I love you. I love this great state. I love all we stand for," it rings true.
I don't think you can fake that.
He leaves people with the feeling that he's going to be with them through good times and bad. That's a significant attribute to have in politics.
However, Justice's lengthy laundry list of accomplishments during his term left Democrats shaking their heads. Senator Bill Ihlenfeld (D, Ohio) said what he did NOT hear was a vision for the state.
It's a fair point. Justice is sincere when he says he wants West Virginia to be the best it can be, but the best at what?
Everything?
The Governor/coach said he's been "working to train" West Virginians for the Olympics, to win the gold. But the gold in what? Swimming, the marathon, fencing, basketball?
Delegate Isaac Sponaugle (D-Pendleton), a frequent critic of the Governor, said Justice is more cheerleader than coach. There's a difference between unrestrained optimism and strategic planning.
In public, Justice rarely gets down into the weeds of specific policies. As Governor, Bob Wise could give you point-by-point explanations of policy; Justice subscribes more to the theory of "get 'er done."
Then again, voters can be worn out by blueprints. Democratic presidential hopeful Elizabeth Warren has a plan for everything, so much so that she leaves you feeling lectured to, but hardly inspired.
Justice cuts a most unique swath in West Virginia politics. When watching the state of the state the other night I didn't know whether to be appalled or enthralled or perhaps both by the show.
But as we know after nearly four years, that's Jim Justice.