(Citynet Statewide Sportsline interview)
MORGANTOWN, W.Va. — In their recent ascent from Division I-AA (FCS) heavyweight to one of the top 'Group of Five' programs at the FBS level, Appalachian State has built a reputation on their performances against top tier programs.
Charleston, West Virginia native and George Washington High School graduate Shawn Clark has been tasked with keeping the Mountaineers in the national discussion and continuing to dominate the Sun Belt Conference. Clark was promoted to ASU head coach on December 13, 2019.
"I got a phone call from (ASU head coach) Eli (Drinkwitz) and he said listen, 'I am taking the job at Missouri and I want you to come with me'.
Fast forward a day later, our athletic director Doug Gillin called and said, 'I want you to be the interim coach. I am not sure what is going to happen.' I went home and told my wife what was happening and we were making plans to go to Missouri. Two days later I interviewed for the job and got the job that afternoon," Clark said.
Clark was an offensive lineman for Appalachian State from 1994-1998. He was a part of the Southern Conference Championship team in 1995 and three Division I-AA playoff squads.
"In 1994 we played Boise State and we got beat on a last-second field goal. The way my coach (Jerry Moore), who is a Hall of Fame coach, addressed the team after a heartbreaking loss, I thought if I could make an impact on somebody someday like he made an impact on me, that's what I want to do.
"When I was in grad school at the University of Louisville I had a professor there who said to write your goals down. So I wrote the goals down and I wanted to be a head coach before I was 50. I wanted to be married and have kids. It was something my parents still had in their house in Charleston. It was in my dad's garage. Every year when I went to my parents' house I saw that."
Scott Satterfield left Appalachian State to become Louisville's head coach following the 2017 season. Clark now becomes their third head coach in as many seasons.
"In this coaching profession, you never know where it is going to lead you. When you think you are the best coach in America, the next year you are going to get fired or vice vera. You never know in coaching. I have been fortunate enough to be here at Appalachian and to win four (Sun Belt) Conference championships in a row. I was in the right place at the right time."
After nineteen seasons as an assistant coach with stints at Louisville, Eastern Kentucky, Purdue, Kent State and Appalachian State, Clark finally has his first head coaching opportunity.
"I was a very good offensive line coach in my own opinion. Maybe not to some but every year I was here we led the league in rushing and fewest sacks allowed with four (Sun Belt) championships. I was made for this. It was just getting a chance and now we are here.
"I really believe our core values that if you can run the football, and they know you are going to run the football, then you can win championships. If you are going to throw the ball all the time to be successful then I think that is a recipe for disaster."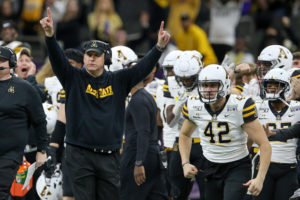 Appalachian State's signature victory came in their FCS national championship season of 2007. The Mountaineers won at top-ranked Michigan, 34-32 in the season opener.
"For players, they were seven or eight years old at the time. So they aren't really familiar with that part to be honest with you. Here recently, it has been more the Tennessee double overtime game in 2016, taking Penn State to overtime in 2017, those are the games they remember. But when you talk to high school coaches, that is the first thing out of their mouths. They say, 'I knew exactly where I was when you guys beat Michigan'."
Clark already has a checkmark in the win column on his head coaching resume. He guided the Mountaineers to a 31-17 win over UAB in the 2019 New Orleans Bowl, capping a 13-1 season. Now, Clark is dealing with the unique situation of a shutdown for college practices and competitions due to the COVID-19 pandemic.
"It is something that is not in the playbook. With technology now the game has changed. Every morning we have a staff meeting to kind of keep up with our own players and make sure they are safe. Then it is straight to recruiting. Right now in recruiting, every college coach in America is in to texting, Twitter, FaceTime, Zoom meetings, etc."
Competing in the Sun Belt Conference, Clark coached against WVU frontman Neal Brown twice when Brown was at Troy. They split those meetings.
"I think Neal Brown is one of the best coaches in college football. I hope the great state of West Virginia realizes that. He is taking over a program and he is going to put his own spin on things. When we faced Neal at Troy, it was the toughest game every year."