MORGANTOWN, W.Va. — Taking the court just two days after the death of her father, WVU senior Kysre Gondrezick scored a game-best 24 points to lead the Mountaineers to a dominant, 92-58 win over No. 17 Texas Saturday night at the Coliseum.
Grant Gondrezick, a former NBA player, passed away Thursday at age 56.
"Kysre is a great young lady and has a great family," said WVU head coach Mike Carey. "We all are praying for her and her family. You have to give her a lot of credit. She came out and played extremely hard. I am very proud of her and the team. We always say we are family, but we really are. When she is hurting, everybody is hurting."
"Everyone grieves differently," said WVU forward Kari Niblack. "This is a hard time for her. I couldn't imagine the feelings going through her today while we were playing. Putting the game together that she had today, I commend her."
West Virginia used a pair of early scoring runs to build a 24-17 lead after one quarter. The Mountaineers used an 8-0 run to erase an early deficit and closed the quarter on an 8-1 burst.
The Mountaineers used another 8-0 run late in the second quarter to build a 46-29 cushion at halftime.
West Virginia opened the third quarter on a 9-1 run and closed the frame by scoring the final 13 points to take a 74-38 lead after three.
Esmery Martinez collected a double-double with 19 points and 10 rebounds. Maidsen Smith scored 17 points and K.K. Deans chipped in with a dozen.
The Mountaineers scored 30 points off of 20 Texas turnovers. "Me, Kysre and K.K., they were not going to be able to run with us," said Smith. "Even if our bigs run like Esmery did a few times and Kari, if they get out, we are going to get easy layups every time."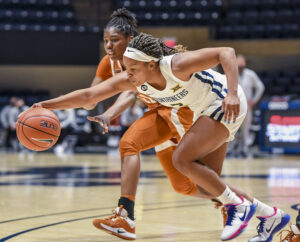 Texas' Charli Collier, a top professional prospect, picked up three fouls in the opening eight minutes of the game and she sat out for the remainder of the first half. Collier fouled out midway through the fourth quarter after scoring just five points.
WVU (8-2, 2-2 Big 12) has won three consecutive games and has surpassed the 90-point mark in back-to-back contests.
"I think we are getting better," Carey said. "I think we are a lot better right now then we were when we started."
The Mountaineers will host Texas Tech (6-4, 1-3 Big 12) Wednesday evening.
(Mike Carey postgame Zoom conference)