CHARLESTON, W.Va. — The U.S Senate on Thursday confirmed former Michigan Gov. Jennifer Granholm as the next secretary of the Energy Department with the former Michigan governor sharing the Biden administration's mission of addressing climate change.
Fourteen Republicans joined Democrats in the 64-35 vote; Sen. Joe Manchin, D-W.Va., previously shared support for the nominee following an appearance before the Senate Energy and Natural Resources Committee. Sen Shelley Moore Capito, R-W.Va., voted against confirmation.
Manchin, the Senate Energy and Natural Resources Committee chairman, asked Granholm during a Jan. 27 hearing about balancing steps to tackle climate change with energy security and job creation. Granholm noted the opportunities in fossil fuel states like West Virginia to develop technology to reduce carbon emissions.
"We know this transition is happening, and we cannot leave our people behind," she mentioned.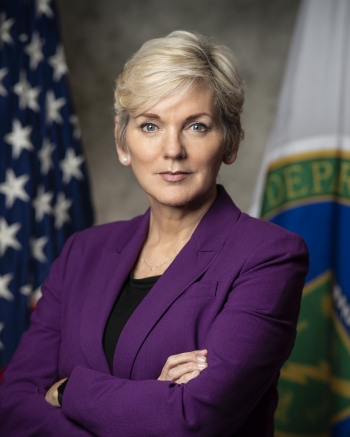 Manchin first met Granholm when they were governors; Granholm served from 2003 to 2011.
"That was a particularly challenging time in her state's history," the senator said Thursday. "I saw how she handled the difficult challenges facing her during the Great Recession. When the bottom dropped out in the auto industry in her state, she was up to those challenges. She helped save the domestic auto industry, she diversified Michigan's economy, she brought in new investment and new industry, and she created new jobs, leaving no worker behind."
In an introductory blog post, Granholm said the Biden administration will focus on addressing climate change through collaboration between the public and private sectors. She also said the move to environmentally-friendly policies will happen through "good-paying union jobs."
"These are the kinds of jobs that will lift up communities that have been left behind — communities whose children can't inhale a full breath because of the pollution from nearby smokestacks, or whose workers are suffering from economic uncertainty as the world demands a transition to cleaner energy," she said. "We are going to make sure those hardest-hit places benefit from — and see their future in — these clean energy solutions."
Capito's decision marked the first time she voted against confirming a nominee to Biden's Cabinet.
"My opposition to Governor Granholm is based on her adherence in her statements and confirmation hearing to the Biden administration's energy policies, which so far cause me great cause for concern," Capito said in a statement. "Now that she has been confirmed, I will ensure she knows of the importance her and the administration's policies can have on West Virginia."
Capito previously shared opposition to confirming Michael Regan as Environmental Protection Agency administrator; the Senate Environment and Public Works Committee voted 14-6 earlier this month to advance the nomination of North Carolina Department of Environmental Quality's secretary. Capito, the committee's ranking member, shared concerns about Regan not being able to influence policies given early actions by the Biden administration regarding the Paris climate agreement and the Keystone XL oil pipeline.
"Staff was already in place, busy implementing what I feel are misguided and unthoughtful executive orders," she said. "It is unclear whether Secretary Regan — if confirmed — would have any authority or have the authority to stop the regulatory march towards the Green New Deal."