Senators approved a resolution to specify in the state Constitution that local governments could not pass gun laws stricter than state code.
Senate Joint Resolution 1 could lead to the "Protection of the Right to Bear Arms Amendment" if it's also approved by the House of Delegates and then approved by voters in the 2022 General Election.
The proposed amendment is summarized as saying, "No agent, agency, municipality, county, or any other political subdivision of state government may restrict this right by any means or in any respect including but not limited to locality, ammunition capacity, caliber, modification, accessory, decibel, method of carry, or by any other means."
The resolution passed the Senate 33-1. The only vote against it was from Senator Bill Ihlenfeld, D-Ohio.
Ihlenfeld said the many towns around the state are different, and he appreciates the ability of local officials to respond to those varying situations. "Martinsburg is different than Matewan," he said.
"I like the ability to vote for people in my community who are going to make decisions to make me safe," he said. "I hate to see so much power being consolidated here in Charleston."
Senator Robert Karnes, R-Randolph, said some core rights rise above local control.
"These are basic human rights. The right to keep and bear arms to defend yourself, your family and your community is a basic human rights," he said.
"This is a good approach to say we are not going to allow local communities to infringe on human rights. To restate that in our Constitution, I think, is important."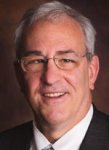 Senate Judiciary Chairman Charles Trump, R-Morgan, said he sees both perspectives but believes the constitutional perspective should be the overriding one on gun issues.
"I like the idea of local control on many questions. I think that's a really important principle to efficient and effective government," Trump said.
But, he said, "This is a fundamental constitutional right, the right to keep and bear arms for those purposes."
The Senate voted in favor of another resolution that could result in a constitutional amendment too.
SJR 10 could limit the terms of members of the House of Delegates and Senate. Its lead sponsor is Senator Eric Nelson, R-Kanawha.
If approved by the House and then by voters, the result place limits of no more than three consecutive terms as a senator or six consecutive terms as a delegate.
The elected terms are four years for senators and two years for delegates.