PHILIPPI, W.Va. — Philip Barbour squandered an opportunity to secure a Class AA Region II, Section 1 championship Monday when it fell to Lincoln, 5-2.
The Colts weren't about to do it again.
After scoring seven runs over the first two innings, Philip Barbour held off a charge from the Cougars for a 9-7 win.
"We were hoping to end it yesterday, but that's not always the case," Colts' coach Jonathon Carpenter said. "You have to be resilient and this bunch has been through a lot."
The victory allows PBHS to advance to next week's best-of-three regional series against Herbert Hoover, with the teams battling for a spot in the state tournament.
After Lincoln (19-8) had a runner thrown out at the plate for the second out of the first inning, the Cougars took an early 1-0 lead on Payton Hawkins' RBI single.
The advantage, however, was short-lived.
LHS starting pitcher Kodi Shingleton failed to record an out among the four batters he faced, yielding a pair of walks along with Nick Hamrick's RBI single and a run-scoring single from Cody Cooper, before being lifted for Lance Hostutler.
Braiden Short added an RBI single later in the first and Miles Hutzler scored from third on a ground ball to short off the bat of Jesiah Matlick, allowing the Colts (19-9) to lead 4-1 after one inning.
"Our pitchers did the best they could," LHS coach Mark Starkey said. "Give them all the credit in the world. They worked the count and our pitchers went full count on fifteen different batters. That wore us down and it was an uphill battle the whole game."
The Cougars got two runs back in the second, with Brayden Arcuri drawing a bases loaded walk and Hostutler driving in Michael Martin on a single to center. Mason Halfin prevented Lincoln from tying the contest by catching a fly ball from Coby Gorby for the second out and quickly firing a strike to the plate that resulted in Logan Hostutler being thrown out at the plate.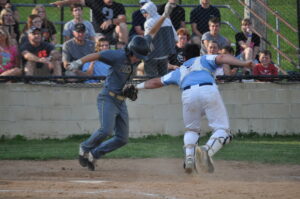 Just as it did in the first inning, PB responded again.
After loading the bases, Alex Wilson connected for a run-scoring single to right that made it 5-3. Later in the inning, Jayden Herron came through with a critical two-out single that enabled Austin Bolyard and Hamrick to score and the Colts to double their advantage.
"I wouldn't want any other kids than what we have right here," Carpenter said. "They may not be the most athletically gifted or do it the best, but they'll fight you tooth and nail and that's all you can ask for."
Three straight singles in the third allowed Lincoln to load the bases. The Cougars produced a run on Logan Hostutler's fielder's choice, but could get no closer.
Still trailing 7-4 in the fifth, LHS got a leadoff home run from Jeremiah Carpenter. Later that inning, Arcuri's two-out single scored Martin, making it a one-run game for the first time since the middle of the second.
Yet again, the Colts had a response. Halfin belted a leadoff double, which combined with an error and base-on-balls, allowed PB to load the bases.
At that point, Carpenter took over on the mound, but he issued a walk to Hamrick that brought in the Colts' eighth run. Carpenter retired the next two batters without a run scoring, but Short delivered a two-out single to plate Bolyard for a 9-6 advantage.
"Braiden kept his weight back and and got his arms extended," Carpenter said.
The Cougars didn't go away quietly, scoring in the sixth on Levi Moore's two-out RBI double to left. Lincoln looked primed to further cut into its deficit that inning, but Bolyard tracked down a deep fly ball to center off the bat of Martin to end the inning.
"When you have a good centerfielder, and we have a great one, you can save runs," Carpenter said. "If that goes over his head, it's probably tied. That's as big as play as there was all night long."
Hamrick, who threw the first six innings, gave way to Wilson for the seventh. He issued a leadoff walk and then another base-on-balls with one out, but retired the next two batters to preserve the victory.
In addition to providing two hits, two runs and a pair of RBIs at the plate, Hamrick picked up the win the six-inning start in which he allowed 11 hits and five walks.
Shingleton suffered the loss and was charged with four runs allowed in the opening inning.
"The guys we used tonight pitch," Starkey said. "They just couldn't find the zone consistently tonight. We were short on arms, but no excuse. Their pitcher did what he needed to do. They have a good team and I hope they win."
Short added two hits and two RBIs, while Herron drove in a pair in the win.
Moore finished 4-for-4 in the loss, while Hawkins and Carpenter had a pair of hits and one RBI apiece.