BERKELEY SPRINGS, W.Va. — A second jury has been chosen in connection with upcoming murder trial in Morgan County.
According to reports in the Journal, a 12-member jury was chosen Friday in the case of Andy McCauley.
McCauley, 43, of Berkeley Springs, allegedly killed Riley Crossman, 15, also of Berkeley Springs, in May 2019. He's charged with first-degree murder, concealment of a body and death of a child by a custodian by child abuse.
The trial was originally set for April but postponed because of COVID-19 concerns. A jury had been seated for that trial but a new jury was chosen for the trial that is set to start next Monday, Sept. 27.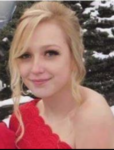 A motion to change the location of the trial was previously denied.
McCauley was the boyfriend of Crossman's mother at the time of Riley Crossman's disappearance on May 8, 2019. Her body was found eight days later in a secluded area near Martinsburg. Investigators said drywall mud found on the girl's body matched drywall mud found in McCauley's work truck.
McCauley has been in jail without bail.