BLUEFIELD, Va. — Like a lot of West Virginians, Jeff Hubbard goes to work everyday and tries to make a good living for his family. The coal miner, who grew up in McDowell County and now makes his home in Bluefield, Virginia, saved up for several years to get the cash to take one of those hunts of a lifetime we all want.
"Every since I was a little boy I've always wanted to go do this. Here lately, I really pushed to try and do it after my grandpa passed away," Hubbard said in a conversation with West Virginia Outdoors.
He started his hunting adventure the way most modern day quests begin, he went to Google.
There he found Efford's Hunting Adventures and began having conversations.
"They were he first ones to pop up. I actually went there on a moose hunt with my wife a couple of years ago. We killed one, but it wasn't anything big, but that's how I got to know them," he explained.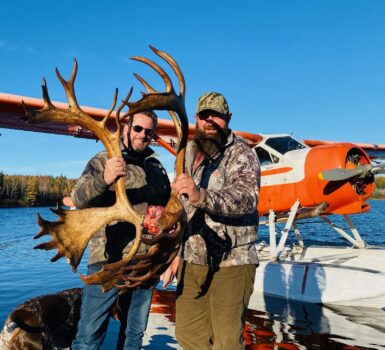 Pleased with his guide experience and set on taking a caribou hunt since childhood, Hubbard headed north of the border in September 2021. The camp was a fly-in and the hunt started with a long hike.
"We probably walked five or six miles and we saw 15 caribou in a herd," he said.
But there was one particular caribou in the herd which stood out. It was a big boy, and Hubbard decided, that was the one he wanted. It turned into a test of endurance.
"We were only about 800 yards away, but we had to walk three-quarters of a mile to get the wind right. It was 20 degrees and the wind was awful, 80 to 100 mile an hour gusts," he said.
At 500 yards, Hubbard and his guide, Tyler Benoit, shed their gear and started crawling across the partially frozen tundra, inching their way closer to the prize.
"I tell you buddy, that's hard for a big ole boy. I was carrying a 12 pound rifle and crawling along. The wind and cold and my arms were just like Jell-O," he laughed.
At 220 yards, the guide declared it was close enough for the shot. The had crawled the length of two football fields after a considerable hike and the stress of trying to stay out of site and down wind. The moment of truth for Hubbard had arrived and he admitted, the pressure was real.
"Hell, all I remember was the crosshairs moving all over him and I said, 'I'm not taking this shot,' I had to reset and calm down because in the back of your head you know you don't want to blow this because he was big. But I still didn't know how big he really was," said Hubbard.
Even with ice thawing from his beard and filling his scope eyepiece with water,  Hubbard found a moment of serenity, squeezed the trigger, and the Hornady bullet found its mark on the beast down range. The double lung shot dispatched the animal quickly. According to Hubbard he trotted 15 yards and fell over dead. The moment of euphoria experienced when the animal dropped could be matched only by the Benoit's reaction when they finally laid hands on the quarry.
"'When the guide, a native of Canada whose been doing this all his life turns around and looks at you and tells you that's probably the biggest one he's ever seen, that's when it started getting real. I knew then, he wasn't playing," said Hubbard.
The drying period before an official score can be calculated will be the day after Christmas. Hubbard has had a couple of green scores on the massive rack. Those have been in the area of 370 to 380 inches on the Boone and Crockett system. Most observers believe it will likely be one of the top five all time killed in Newfoundland. Only three in history have scored more than 400. Another killed about 15 years ago scored in the 380 range.
News of the big caribou has spread quickly and Hubbard has gotten plenty of attention from national hunting magazines and organizations. They're eager to share the story. The guide service, quite naturally, is also touting the accomplishment to boost their services. Big racks are good for business.  But Hubbard, like most West Virginians is humble and amazed by the attention. Remember, he just wanted to take the caribou hunt he's always dreamed of, taking one of the biggest in history never factored into the equation.
Hubbard likes to think his grandpa is definitely sharing in the enjoyment and excitement of the occasion as well, and may have actually had a hand in the hunt.