ROMNEY, W.Va. — Some bricks from the old administration building that burned down last month at the West Virginia School for the Deaf and Blind will be fully restored, according to state School Superintendent Clayton Burch.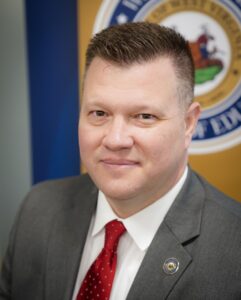 "I have gotten so many requests for the bricks of that building," Burch said. "We will be saving those bricks that survived. It will go through a cleansing abatement process and we will be saving them to use for some purpose as we move forward."
Burch provided an update to the state Board of Education Wednesday regarding the Feb. 26 fire that was ruled undetermined. State fire marshal's said they couldn't determine a cause because there was too much damage on the Romney campus.
Flames ripped through the 1860s brick building. There were no students on campus at the time of the fire because they had gone home for the weekend.
"It was really sad to see that historic building burn the way it did, but fortunately that is not a building we were utilizing for children," Burch said.
Administrative offices were consolidated and had moved in August, which meant all of the students' records had been transferred. Historical items including around 2,000 photos were archived back in October.
"Some of our archivist had actually began the process of scanning many of the records and documents as back up," Burch said.
The building was a hub for all internet, phone and security systems and had not been shifted yet. The state Department of Education worked with Frontier to restore internet and phone service to the campus after hook-ups were destroyed in the blaze.
"We had internet and phones connected by Monday morning for teachers to show up and to connect with their children," Burch said.
Administrators called each family to make sure students were taken care of and if they needed meals.
"We had several counties step up and assist with meal deliveries from their home counties to their homes," Burch said.
Burch called it a "very large and very quick moving coalition of state agencies that came together."
"It was quite impressive to see how fast and how responsive this community and this state was to the school," he said.
The students were back on campus this week, Burch told board members.
"The children have taken this much better than the adults. They were glad to be back in school. They were glad to be back in a routine. It is still the adults that are struggling a bit with losing that history," he said.