A former delegate now running for state Senate has accused a rival of being an ineligible candidate over residency and registration issues, stirring up broader conflict among Republicans.
Senate candidate Joshua Higginbotham made the claim on social media against Andrea Garrett Kiessling, a 35-year-old political newcomer who grew up and lives in Spencer.
They are among four Republicans running in the 8th Senate District, which includes Roane and Clay counties and parts of Kanawha, Putnam and Jackson. The others are Mark Hunt, a former Democratic delegate from Charleston, and Mark Mitchem from Clay.
Higginbotham claims Kiessling moved back to West Virginia from North Carolina just a few months ago and doesn't pass muster with constitutional residency requirements. And he charged that she registered as a Republican voter in West Virginia this year, just as she was filing to run for office.
"Andrea Garrett is running for State Senate against me, and she does not meet the minimum Constitutional qualifications to even be on the ballot, nevertheless serve in government," Higginbotham posted on both Twitter and Facebook on Tuesday evening.
Higginbotham says he will file formal challenges.
In a written response, Kiessling today characterized Higginbotham as a career politician running a negative campaign. She emphasized her West Virginia roots but didn't specifically refute the allegations.
"I was born in WV, I grew up in WV, I was educated in WV, my family is in WV. This is my home and I'm proud to be here — and I look forward to the opportunity to serve my state as a senator," Kiessling wrote.
"My opponent is running a false and negative campaign. That's no surprise, because being a politician is the only job he has ever had. Career politicians will do or say anything to keep their positions."
As early voting has kicked off in West Virginia precincts, mud is flying all over the 8th Senate District.
My opponent was not registered to vote as a Republican in West Virginia until after she filed to run against me for State Senate in February.

I never talk poorly about my opponents even when they do about me, but when they run for office though they are not legally eligible… pic.twitter.com/D19dudruM5

— Joshua Higginbotham (@Higginbotham4WV) April 26, 2022
Higginbotham's claims generated pushback from Republican Party operative Greg Thomas, who has been advising Kiessling's campaign, and Senator Eric Tarr, an incumbent Republican from Putnam County who has publicly supported her.
"Frantic. Lying. Desperate. You know this is nonsense. You are the one that moved into a new county to run for state senate. Josh is running third in the polls and has no chance to win. Does he identify as the Secretary of State? Enjoy the last few week of your last campaign," Thomas posted in response.
Tarr's political page had already been blasting Higginbotham and supporting Kiessling as "the conservative candidate" in the race. Tarr has no opposition in his own district and so has been campaigning with other candidates, including Kiessling.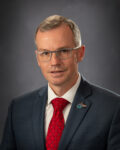 Tarr responded to the post about Kiessling's candidacy by bringing up a separate claim about Higginbotham's support for the Fairness Act, which would bar discrimination in West Virginia on the basis of sexual orientation and gender identity in issues like employment and housing.
"This is an incredibly desperate reach from you, the lead sponsor of men girls restrooms bill, if you just identify as a girl," Tarr wrote in his own post. "You should identify as someone with more dignity and see if that helps."
The "identify" jab is present in both the Thomas and Tarr responses.
Higginbotham came out as gay last year. He was the only Republican in the House to vote against a bill restricting athletic participation by transgender athletes. In describing his support of the Fairness Act last year, he said, "West Virginia is changing. The Republican Party is changing."
Higginbotham served in the House of Delegates starting in 2016 when he was elected at age 20. This year he decided he was ready for more change.
The recent redistricting process generated competitive races in reshaped districts, including the 8th Senate, where the incumbent is Democrat Richard Lindsay of Charleston.
Higginbotham had served in the House of Delegates from Putnam County but resigned earlier this year, announced he was running for Senate and moved to Kanawha County.
The moves by Higginbotham are part of the pushback on his claims, that he too has moved for electoral benefit. Higginbotham says he's in the clear: "I've been in this district my whole life. Sadly had to switch counties though."
Kiessling has deep roots in Roane County, but Higginbotham contends she spent years of her adult life in North Carolina before moving back a few months ago.
Documentation from the West Virginia Secretary of State's Office shows that Kiessling first registered as a Republican in Spencer in 2009 and voted in the 2010 GOP primary.
For years after that, the documentation notes that no record of voting activity is found in West Virginia. In 2018, the Secretary of State's Office made note that she had not responded to a standard confirmation request. In February, 2021, there was a note that she had been inactive for two federal elections. That's a period that led to her being swept from the state's voter rolls.
A search of North Carolina's voter rolls shows that Andrea Garrett Kiessling, with the same birth date, of Charlotte is still listed as an eligible voter there. Her voting record shows participation in the 2012, 2014, 2016, 2018 and 2020 general elections in Mecklenberg County.
Kiessling's activity picks up in West Virginia again at the end of this past January as she registers as a voter at a Roane County address, starting Jan. 29.
Also on Jan. 29, she registered to run for state Senate.
West Virginia's constitution includes a couple of requirements. One is that candidates must have been citizens of the state for five years prior to their election. Another is that senators must be residents within their districts for one year prior to being elected.
Higginbotham asked the West Virginia Republican Party to urge Kiessling to drop out.
That followed closely after a similar situation with a candidate for House of Delegates from Parkersburg. Robert Fehrenbacher had filed a certificate of candidacy with the West Virginia Secretary of State's Office with the belief he was a registered Republican, but Fehrenbacher was actually not affiliated with any political party at the time.
The state GOP this week put out a statement asking Fehrenbacher to pull his name off the ballot. That followed action by the Wood County GOP disclaiming Fehrenbacher's candidacy.
One of the stated reasons in that case was that an ineligible candidate might sacrifice the seat to a Democrat: "If he were to win the primary election, it is questionable as to whether or not Mr. Fehrenbacher would be able to remain on the general election ballot, potentially endangering a safe Republican seat."
Today the West Virginia Republican Party said that won't happen in Kiessling's case. The West Virginia GOP cited the party registration issue, but nothing about the residency matter.
"The WVGOP has not received any formal request from Delegate Higginbotham on this matter. The Party did look into the issue raised this morning and found, per data provided by the Secretary of State, that Andrea has been a registered Republican since 2009," stated GOP Chairman Mark Harris. "Given our findings, the Party will not be engaging on this subject any further."
In Higginbotham's exchange with the other Republicans, he said the more experienced political figures should have made sure she was aware.
"You took advantage of this nice woman and her lovely family, making them spend tens of thousands of dollars of their own money in the race. You knew, for a fact, that she is ineligible. You recruited her anyway so you could line your own pockets," he said in a post directed at political consultant Thomas.
In a telephone interview Wednesday afternoon, Thomas said that although he is advising Kiessling he is not being paid. Thomas said the 8th District race had been relatively low-profile but mutual friends mentioned interest by Kiessling.
"I talked to her. We went over her background and residency and family and job history and all the things you would do when you talk to somebody. We were super excited about it," Thomas said. "She's a great candidate. She's a wonderful young woman we were really excited about having on the ticket."
Thomas explained her residency as a matter of needing to be flexible for work and family. "She traveled all over the place," he said. And of Higginbotham's claim, Thomas said, "There is no evidence of that. She's here. This is home base. This is where she resides."
Thomas added, "We're fully aware of her her employment and residential status and are 100 percent comfortable that she's a legal candidate."
He contended this issue has arisen because Higginbotham has fallen behind in a competitive race.
"The sad thing is, Josh knows this is a lie. He knows as well as we do. There are polls out there, and he is in third behind Mark Hunt," Thomas said.
"The losing candidate doesn't get to make up the rules of the game. Andrea's a winner, Josh is a loser."
Higginbotham, in an email today, said this is not the end.
"We have not filed any sort of formal complaint yet," he said, "but we will."