CHARLESTON, W.Va. — State Lottery Director John Myers predicts the Lottery will finish the fiscal year Thursday with total revenue of approximately $1.25 billion.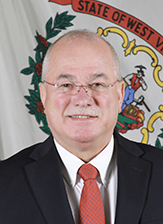 Myers said the Lottery has had two strong years after 2020 revenues were impacted by forced shutdowns associated with the pandemic. The only time the $1 billion mark wasn't hit in more than a dozen years was was 2020.
Myers' team reported May revenue numbers to members of the state Lottery Commission at the commission's monthly meeting Wednesday.
Total gambling revenues for May came in at $106.8 million. The biggest contributors to that number was Racetrack Video Lottery at $41.3 million for the month and Limited Video Lottery with revenue of $41.2 million, the 9th highest monthly amount for LVLs.
Revenues from community slot machines bounced back a lot quicker than slot machines at the casinos across the state once gambling locations reopened following the pandemic. Myers said he's starting to see a change in the last few months.
"Actually last week the racetracks had one of their better weeks than they've had in a long time," Myers said. "The casinos actually outperformed LVLs."
Greenbrier gambling up
Wednesday's Lottery Commission meeting was also the commission's annual relicensing meeting. Limited Video Lottery and Racetrack Video Lottery operations were among those to be relicensed.
During the discussion, the commission learned of rapidly improving revenue numbers for the casino at the Greenbrier Resort owned by Gov. Jim Justice and family.
Myers attributes some of that growth to the Greenbrier becoming the first casino in the state to max out the number of platforms for its sports betting and iGaming operations.
"They've done very well with the mobile apps," Myers said. "You can have three platforms for each (sports betting, iGaming) and they were the first to reach out and contract with three different companies to do that."
The Lottery Commission's next meeting is scheduled for July 27.