West Virginia delegates passed an abortion law with narrow exceptions following the U.S. Supreme Court's reversal of Roe vs. Wade's federal guarantees.
House Bill 302 now goes for consideration by the state Senate, which convenes about 9 a.m. Thursday. Republicans have majorities in both chambers, and the bill is likely to complete passage as soon as the end of the week.
Debate in the House of Delegates went more than three hours as abortion rights protesters filled galleries and spaces outside the chamber, often vocally. The final House vote was 69-23. 
"I am pro life because I believe every life has value. I'm not pro life for any other reason. I believe that every life is a gift from God above, regardless of how it came into being or came into existence," said Delegate Brandon Steele, R-Raleigh, speaking about tailoring the bill as narrowly as possible.
"I will tell you right now, don't blink. Don't blink for a second because if you institute an exception right now, you will continue to deal with this again and again and again and again."
A majority of delegates voted down several amendments, including one offered by Democrats to establish exceptions for rape or incest. That vote was 21-67.
But lawmakers adopted a different, narrower amendment offered by Republican John Hardy of Berkeley County to allow abortions in cases of rape or incest once a report is made to law enforcement and if a medical professional assesses that fewer than 14 weeks of gestation have gone by. The vote on the amendment was 46-43.
"If your wife was raped today, if your daughter was raped today and became pregnant — she has no option," Hardy told delegates. "I believe deep down inside in this House, the numbers are here to present this option."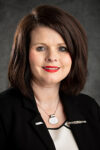 Delegate Heather Tully, R-Nicholas, spoke in support of the amendment.
"I don't believe in abortion as regular birth control for consenting adults, but when you're talking about, especially, minors or others who have somebody else's choice forced upon them, I think that's a different situation," she said.
Tully, a nurse, continued: "If you've ever assisted with a childhood sexual assault exam or ever seen someone that has been beaten black and blue, in an ICU, who has been raped, it's pretty traumatic, not only for the patient, their family members, as well as the providers."
Democrats joined many of the Republican delegates in voting for the amendment, but they said it is too narrow.
"Guys, I'm struggling with this amendment, big time," said Delegate Kayla Young, D-Kanawha, who wound up voting for it. "I'd rather have something than nothing. Honestly, I want to protect people. I'm struggling. That's all I've got."
Lawmakers took up the abortion bill in a special session that started Monday.
House Bill 302 encompasses a range of abortion policies, eliminating any period after conception for a choice to end pregnancy. In recent years, West Virginia law had allowed abortion up to 22 weeks of gestation.
The bill maintains criminal penalties of three to 10 years of incarceration for medical providers who perform abortions — the main provision of a law from the 1800s that had been inactive while Roe was observed — but specifies that the pregnant woman would not be charged.
The bill allows exceptions for a nonmedically viable fetus, an ectopic pregnancy, which is when a fertilized egg implants and grows outside the main cavity of the uterus, or a medical emergency, which is defined as a condition that requires an immediate abortion to avert the patient's death or to avoid serious risk of damage to a major bodily function.
A medical emergency does not, in the bill, include psychological or emotional conditions.
The bill specifies several things that are not considered an abortion: a miscarriage, a stillbirth, use of established cell lines derived from aborted human embryos, treatment by a licensed medical provider that accidentally terminates or severely injures the fetus and in vitro fertilization.
The bill also specifies that it does not prevent the use of contraceptives.
Debate on today's floor resulted in many exchanges, including between Tom Fast, a Republican, and Danielle Walker, a Democrat.
"Who will be most impacted by this ban on abortions, do you know?" asked Walker, a Monongalia County resident who has often spoken of her own experience with abortion.
"My response to that is, that the greatest impact will be the saving of hundreds and thousands of babies," responded Fast, a Fayette County resident. "The most impact would be to those babies who are saved as a result of this legislation."
Walker rephrased, asking, "Who will be impacted, period, with a ban on abortion? Who's all the folks who will be impacted. You gave me on answer. Are there others?"
Fast responded, "Any law we pass, as you know, Delegate, impacts people all across this state. This would be no different"
Walker then asked, "Will low-income folks be impacted by House Bill 302?" She then asked if minority groups would be affected. And Walker asked if rural populations will be affected.
Walker's conclusion was that the bill was rushed and doesn't meet the needs of the state's residents.
"Here we are. In less than three days, we have introduced, sent you a bill to fully ban abortions at zero weeks with some extremely narrow exceptions. Do we ever begin to think about the person who is pregnant in a compassionate way?" she asked.
"This bill is forced, rushed, problematic to say the least."