ALUM CREEK, W.Va. — Gov. Jim Justice said the last time he killed a quail in West Virginia was Christmas Eve 1976.
"My hunting diary clearly reflects on the day before Christmas, I had killed 103 quail that season and the previous season, which was 1975-'76 I had killed 176 quail. Since that date, I've never shot my shotgun at a quail in West Virginia," Justice told a gathering Wednesday at the Claudia Workman Wildlife Education Center in Kanawha County.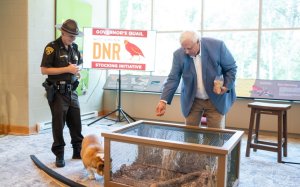 Justice said quail were plentiful in West Virginia, but the winter of 1976-'77 wiped them out. According to Justice, the snow fell on Dec. 24 and stayed on the ground through March the following spring. He added temperatures plunged well below zero and stayed there.  The extreme conditions killed off most of the birds. The few which survived the dreadful winter struggled with poor habitat and predators.
Now in the governor's office, Justice is leading the effort to restore bobwhite quail to the hills and hollows of West Virginia.
During recent weeks, biologists with the state Division of Natural Resources have released 12,000 quail and will eventually turn loose a total of 21,000. They're being released in seven locations across the state; Burnsville Lake Wildlife Management Area, Cross Creek WMA, Huttonsville WMA, Laurel Lake WMA, Pleasant Creek WMA, Greenbrier State Forest, and Frozen Camp WMA..
It's a second effort at restoring quail. The first ones were released a few years back on the Tomblin Wildlife Management Area in Logan County. Justice admitted they probably didn't have the right approach for that effort.
"We tried to find wild birds in Texas, South Carolina, Georgia or wherever and turn them loose. We found a few and they're really expensive. We probably didn't have everything prepared for them exactly right," he said.
The birds involved in what's now called the Governor's Quail Stocking Initiative are pen raised, but Justice said they are taking steps to insure they have a chance to survive and hopefully thrive.
"Why not try? That way our sportsmen can enjoy the birds. They come from the very, very best of the best to replicate wild birds as best we can. Predators will get a few of them, but the others will learn and as they progress and learn we hope for regeneration," he said.
DNR workers released the birds at 10 weeks of age by building a platform just a few inches off the ground and covered with a piece of plywood. Each covey contains 25 birds which start out under the plywood which is enclosed in a fenced in pod. For the first few weeks feed is tossed out once a week to the quail as they slowly become acclimated to their new environment and eventually they move away on their own.
Justice is confident the measure will be successful and quail will return to the West Virginia landscape.
"I've done this over and over and over. They won't stay in the immediate area, but they'll stay in about a five-acre area. The regeneration comes next spring and we're hopeful it will be between ten and 30 percent.," said the Governor.
The birds are about $5 each. Along with the cost of the feed and materials for the release enclosures, Justice estimated the cost of the program at roughly just over $100,000. He called it a small price to potentially restore a long lost piece of the West Virginia fauna.
"I've missed these little rascals. It's a bird that's been here forever and incredible wildlife we need to protect and bring back. It's a step forward and I'm really really proud to play a small part in it. I know it will work and our outdoorsmen will be excited to find them. Since the winter of 1976-77 nobody has seen any in West Virginia.," said the Governor.