CAROLINA, W.Va. — A suspected member of the Pagan's Motorcycle Club has been charged with murder in connection with the Sept. 9 shooting in the Marion County community of Carolina.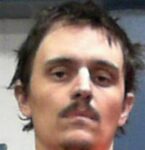 Deputies from the Marion County Sheriff's Department allege John Wolfe, 33, called for the killing of Henry Silver because he was romantically involved with his girlfriend.
Deputies allege that prior to the killing of Silver, Wolfe had a meeting with five other people wearing Pagan's Motorcycle Club markings where Silver was discussed.
Following the meeting, Silver arrived at Wolfe's girlfriend's apartment not knowing Wolfe was there. Police said an argument began and Silver left. Silver then returned to the apartment twice exchanging words with Wolfe.
Deputies said Wolfe then called another member of the Pagan's and a short time later two people arrived at the apartment while Silver was outside. It's alleged one of them shot Silver and fled the scene. Deputies said the other person and Wolfe can be seen on surveillance fleeing the scene before police arrived.
Wolfe has been charged with first degree murder and is being held in the North Central Regional Jail.
Deputies are looking for the other two people involved.