WHEELING, W.Va. — Over its first 13 games of the 2022 season, Parkersburg South averaged better than 52 points, including nearly 65 over three postseason wins.
Huntington was well aware of the Patriots' offensive proficiency ahead of their matchup in Saturday's Class AAA final at Wheeling Island Stadium and accepted the challenge head on.
All the Highlanders did was keep a team that had scored at least 20 points in every game and 32-plus in all but one out of the end zone, while holding the Patriots scoreless over the final three quarters and Huntington gradually pulled away for a 28-3 victory.
"We read a lot of things this week all about Parkersburg South's offense. I challenged our defense this week that our program was built on defense since I've been here and it's going to continue to be that way," Highlanders' head coach Billy Seals said. "Our kids executed the plan, played fast and PS is really good on offense. They scored a bunch on everyone, but our kids played lights out today."
The win gives the second-seeded Highlanders (13-1) their first state championship in football, while it denied top seed Parkersburg South (12-2) from claiming its second title.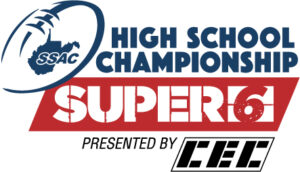 A game-changing sequence came late in the opening half with the Patriots in possession and leading 3-0.
Faced with second-and-23 from its own 33-yard line, Parkersburg South quarterback Robert Shockey was sacked and stripped by the Highlanders' Donovan Garrett, while nose guard Kiyou Jackson recovered the fumble to give Huntington the ball at the Patriots' 26 with 1:38 to play in the second quarter.
Gavin Lochow's 18-yard run moved the Highlanders into the red zone on that ensuing sequence and then tossed a 7-yard touchdown pass to D'Edrick Graves on third-and-goal to give HHS the lead.
The first of four point-after kicks from Jonathan Aya-Ay left the Highlanders with a 7-3 lead that stood through halftime.
"We really came to our senses and remembered that we took it personal that people said Parkersburg South had too many weapons," standout Huntington lineman Robby Martin said. "We knew we were the better team and we were going to take it to them and that's what we did."
The Huntington lead remained four at the midpoint of the third quarter, and it initially was ruled to have increased to 10 points after cornerback Duane Harris ripped the ball from Shockey, recovered the fumble and returned it for a touchdown.
However, the Patriots challenged the ruling and replays showed Shockey's knee was down just before the fumble, allowing PSHS to maintain possession.
"I told our guys, 'As long as this is taking, it's going to get overturned.' They were trying to see where they were going to spot the ball and all that," Seals said. "I told our defense relax, play the next snap and keep them out of the end zone."
But as was the case for much of the second half, the Patriots couldn't overcome self-inflicted mistakes. They committed four penalties on the series after the replay, which led to them punting on fourth-and-20 from the Huntington 44.
"It was like we couldn't get out of our own way," PSHS head coach Nathan Tanner said. "Offensively, we get in a rhythm and then shoot ourselves in the foot. That put us behind the 8-ball a lot and against a good team like Hunt, you can't do that."
Four plays after the punt, Zah Jackson broke into the open field and the sophomore sensation displayed his breakaway speed on a 77-yard touchdown run that made it a two-score game for the first time with 1:35 on the third-quarter clock.
"It felt great. Our linemen and skill guys at receiver had great blocks," Jackson said. "They just opened holes for me and I ran through them."
The Highlanders forced another PSHS punt after increasing their lead to 11, and then put together a 10 play, 56-yard drive that was capped by Graves' 6-yard touchdown run to all but seal the verdict with 7:06 remaining in the fourth quarter.
"When they went up 14-3, that made it kind of tough," Tanner said. "Up to that point, I felt like we were still in it. We just didn't capitalize on our opportunities."
Jordan Price forced a Shockey fumble that Gavin Adkins recovered later in the fourth, leading to Graves' third touchdown on a 12-yard run that capped the scoring in the contest with 3:55 left.
"Great job by the young man. He just kind of stayed the course," Seals said. "He and Zah have been together their whole life. It's kind of thunder and lightning. D'Edrick is more of the straight ahead power runner and Zah is more of the scat back making big plays. Happy for D'Edrick and the day he had."
The Patriots finished with 15 penalties for 135 yards, 13 of which came after halftime and accumulated all but 26 of the penalty yards.
Jackson led all players with 165 rushing yards and was named Huntington's Most Outstanding Player.
Lochow followed with 107 yards on the ground and completed 11-of-20 passes for 72 yards in windy conditions.
"The weather and wind was crazy so I knew it was going to be hard on Gavin throwing the ball," Harris said. "I wanted to make plays on the defensive side and then our RBs and Gavin stepped up. I'm proud of the whole team. We worked hard for this and deserve it."
Patriots' tailback Gage Wright had a valiant effort in defeat, rushing 17 times for 122 yards and tying Turner Garretson for the team lead in tackles with 10. He was named the Patriots' Most Outstanding Player.
Shockey was limited to 18 yards on the ground and completed 14-of-22 passes for 81 yards.
Harris led all players with 12 tackles in the win.
"We knew this is Huntington and we have all the athletes and players," Harris said. "We showed everybody who has the real players."
One year after the Highlanders fell short in the Class AAA final against Martinsburg, they became the second 2021 runner-up to go out on top this time around. Independence did likewise in Friday's Class AA title game.
"I've thought about it every day and every night," Lochow said. "I've never felt worse than leaving here after that game. I don't think I'll ever feel better in my life than leaving here today. The guys bought in and did what we were coached to do. The coaches put us in great positions and we did our job and won."