House of Delegates Speaker Roger Hanshaw (R, Clay) has won re-election by his caucus to a third two-year term. The vote came during a Sunday closed-door meeting, with Hanshaw getting 53 votes to 30 for Delegate Brandon Steele (R, Raleigh).
Steele made an all-out effort to unseat Hanshaw, complaining that Hanshaw stood in the way of legislation pushed by more conservative members of the House. Steele said on "Radio Roundtable" on WJLS AM last week that new members are impatient for change.
"In the House we have 30 members coming in as brand new, and that is astonishing. I think there's an appetite on the part of those new members to see some legislation progress that maybe we've not had an opportunity (to move) before," Steele said.
"It's not just different views," Steele went on to say. "It's different personalities and different leadership styles that are clashing at the moment. The last thing you want to see is your own caucus divided."
Ironically, as Republicans gain even larger majorities in the House, the Speaker's job becomes more difficult, not easier. With 88 members, the views among Republican delegates will vary widely on legislation, creating tension and discord.
Meanwhile, Hanshaw is going to make changes within his team. "Suffice to say we will have some significant reorganization of our leadership," he said on Talkline Monday. "We did put off making final decisions on who all the committee chairs and leadership will be, who the membership of committees will be, who the senior officers of the House will be until after we got past our internal caucus," he said.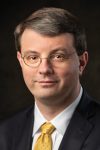 It is widely believed Amy Summers (R, Taylor) will leave the number two position of majority leader. Summers is expected to take the lead on reforms to the Department of Health and Human Resources.
MetroNews' Brad McElhinny reports, "Possibilities for a new majority leader, according to delegates, include current Finance Chair Eric Householder (R, Berkeley) and current Health Committee Chairman Matthew Rohrbach (R, Cabell)."
It will also be interesting to see what happens to Delegate Steele.  He is currently chair of the Government Organization Committee. It is hard to imagine Hanshaw keeping Steele in that leadership position after his failed attempt to unseat the Speaker.
The larger issue, however, is how those 30 Republicans who did not vote for Hanshaw will respond. Will they coalesce around leadership's agenda, or will they put up barriers? The same question applies to the Senate, where Republicans have 31 of the 34 seats, but again, widely different points of view.
The Republican super majorities in the House and Senate mean each chamber can pass whatever it wants, regardless of what the few remaining Democrats want. The real struggles during the two-month regular session—which starts next month—will be among the Republicans themselves.