BECKLEY, W.Va. — It appears several thousand residents in parts of southern Raleigh County will go into the new year without water service.
Problems created in the Beckley Water Company system and surrounding public service districts by the Christmas weekend sub-zero temperatures has caused leaks and emptied storage tanks.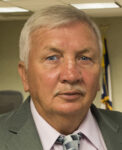 Most of the week has been spent finding and repairing the leaks and refilling the tanks. Raleigh County Commissioner Dave Tolliver reported progress during a Friday appearance on MetroNews "Talkline."
He said water was back on Friday in the Ghent and Cool Ridge areas, 40% of customers had service in the Sophia area and 50% in the Prosperity community.
Tolliver said the news isn't as good for residents who live in Glen Daniel and along Route 3.
"They (Beckley Water Company) did not increase the flow of water to this public service district down there and it looks like all of the tanks, there are three large tanks down there, they are all still empty," Tolliver said. "These poor people down there, I hate to tell them this, it's probably going to be at least New Year's Day (until service is restored)."
Tolliver said the area includes Glen Daniel, Fairdale, Bolt, Marsh Fork, Clear Fork and Whitesville.
"The problem is they are only pumping 275 gallons of water per minute through the valley," Tolliver said.
He said Friday's update reduced those without water in Raleigh County from approximately 5,000 to somewhere in the range of 2,500 to 3,000 customers.
What's the latest on the water situation in Raleigh County? Thousands have been affected by the winter storm that swept through West Virginia last weekend. Dave Tolliver, Raleigh County Commissioner, joins @HoppyKercheval. WATCH: https://t.co/yCFQ3nDJuy pic.twitter.com/HMSdMOAYtL

— MetroNews (@WVMetroNews) December 30, 2022
Raleigh County Board of Education member Rick Snuffer lives in one of the areas still without water. He hasn't had it since Monday. Snuffer said some schools may not be able to reopen next Tuesday because of the problems.
Snuffer said the problems with system didn't happen overnight. He said it points toward overall problems with the current setup.
"It occurred, yes, and there was a lot of water lost in the Beckley area and different things but once you turn the water off (on those breaks) the system should recharge," Snuffer said. "Why is it not recharging? Because that is the situation, we don't have enough capacity or volume to do that. We need to have some serious conversations about that in Raleigh County."
Tolliver is urging the Raleigh County Public Service District to build its own water system in the Glen Daniel area so it no longer has to purchase water from Beckley Water.
"We're hoping that in 2023 we can start construction. That way we never have to worry about buying water from Beckley water," Tolliver said.
Tolliver said residents can help by checking a neighbors home–who may have been out of town–to see if there are additional water leaks that take away volume from the system.
There are water distribution points set up around the county.
Raleigh County is dealing with serious water issues following the cold weather last weekend. What is the latest on this situation? Rick Snuffer, Member of the Raleigh County Board of Education, provides the latest to @HoppyKercheval. WATCH: https://t.co/yCFQ3nDJuy pic.twitter.com/VukPrRVCtw

— MetroNews (@WVMetroNews) December 30, 2022
Tolliver said there's an 8,000 gallon tanker located at Trap Hill and another one at Sophia. He said Pepsi was bringing in another tractor trailer load of bottled water Friday afternoon for the Sophia and Trap Hill areas.
Snuffer said he's been able to get bottled water but not everyone can.
"A lot of elderly people can't get out to the fire departments to get water," he said.
Snuffer said he does know it takes 17 bottles of bottled water to flush a toilet.
"It doesn't go very far I can tell you that," Snuffer said.