CHARLESTON, W.Va. — Legislation to give corrections officers in West Virginia both a pay raise and a bonus has won approval in the House Jails and Prisons Committee.
House Bill 2879 advanced Thursday with a unanimous vote of committee members.  It now goes to the House Finance Committee.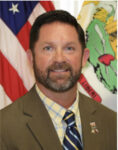 Members heard from West Virginia Commissioner of Corrections and Rehabilitation William Marshall who said the shortage of Corrections Officers in the state's jails and prisons is the worst it has been in 30 years. Marshall said it is not uncommon to have only a couple of officers show up for a shift which required at least 15 people. In those cases, officers who have already been on duty for 10 or more hours are being asked to do more.
He admitted some take the overtime work and like the extra money.  But they are in the minority.
"It's not anything that's attractive for anybody wanting to go home and spend time with their family and their kids. If we don't get enough volunteers for that shift, it ends up being a 'volun-told' situation. That makes for a disgruntled and cranky employee," said Marshall.
The legislation would provide a $6,000 hiring and retention bonus. Employees who are already on board would be paid the $6,000 bonus.  Newly hired officers will get $3,000 immediately and another $3,000 after three years.
The bill also offers a separate $10,000 pay raise to officers. Initially it would be a $5,000 raise on July 1, 2023. Then a $2500 raise in 2024 and anther $2500 raise in 2025. Bill sponsors said the legislation would raise the starting salary for a Corrections Officer from $33,0000 to $43,000 in three years.
It's the first time the pay has been visited since a similar raise in 2018. Committee members were fully behind the measure, but Greenbrier County Delegate Mike Honaker shared it had to be one they sold to other members of the Legislature as the bill moved forward.
"It's not enough for us to just pass this and say our committee did our part, every single one of us needs to go out of here and be ambassadors for this bill," he said.
Delegate Eric Brooks of Raleigh County, a former correctios officer in the Federal Bureau of Prisons, echoed the statement and offered a message to those in the Corrections community.
"You have support here. We're working to remedy this situation and to provide compensation that is somewhat commiserate with the obligations and risk you take on our behalf. You mean a lot to us and I appreciate that," he said.