CHARLESTON, W.Va. — In the week since the Regal Apartments fire displaced dozens of residents in Charleston, some have already found a new place to live.
Mountain Mission Executive Director John Roberts told MetroNews Wednesday of the 35 families who were impacted about 15-18 residents have found housing, while others continue to explore their options.
Clothing donations since the Jan. 25 fire have been overwhelming in the best way possible, Roberts said.
"We are going to be able to bless a lot of these folks with all the closing they need," Roberts said. "We even purchased new clothing for a lot of them."
The biggest need right now is for housing items including furniture, towels, hygiene products and more. Roberts said the best way to get items like that to residents is to make a monetary donation.
"The next phase will really be making sure that they get into the apartments, that they have the necessities like a bed and a kitchen table," he said.
Patriot Services Group, who manages the Regal Apartments, placed families at the Best Western Hotel in downtown Charleston at no cost while they assist with permanent housing solutions.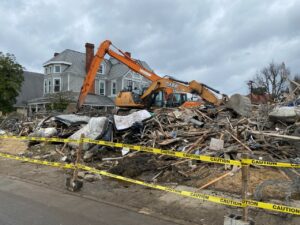 Roberts said once a resident finds a new apartment or home to live in, Mountain Mission will help them restock their shelves with necessary food items and other supplies.
"When they get into their apartments for the first time, their cabinets are going to be bare," he said. "We are willing to go in there and help them get some food in their apartments and get them started on a good foot."
No one was hurt in the fire, but many are still trying to process what happened. All 35 occupied units in the four-story building had to be demolished. Charleston firefighters ruled the fire as undetermined.
The American Red Cross was on the ground in the moments after the fire along the Kanawha Boulevard. Regional CEO Erica Mani said they have assisted 33 clients through their case management work.
"We're working with each individual even those things like 'have you forwarded your address through the U.S. Postal Service?'" she said.
Mani said part of their role is to help with supplemental assistance rather than physical donations like food and water.
"They're getting wonderful support from the community with food and items, but they do need to go out and purchase their own things. The Red Cross case work team wants to make sure that they're able to do that," Mani said.
West Virginia Health Right helped fill prescriptions for residents who needed it. United Way has also set up a fund to help the victims recover their losses.
Mani said these issues won't be resolved overnight, but they can continue to help make a difference each day.
"This isn't something that will be done this week. It will go on for a couple of weeks. It is a multitude of community partners who are coming together to make sure that those folks from the Regal Apartments are taken care of," she said.
A spokesperson with the City of Charleston said the Building Commission has been working with the property owner to begin removing the debris from the fire scene this week depending on the weather.