CHARLESTON, W.Va. — Governor Jim Justice, flanked by several members of the Legislature, NRA, and West Virginia Citizens Defense League, signed legislation Wednesday making it legal, with a permit, to carry a concealed weapon on a college or university campus in West Virginia.
"I said the second it comes to me, I'll proudly sign it, so let's get on with it," Justice said to the gathered supporters in his reception room at the State Capitol.
West Virginia is now the 12th state which allows for carrying hidden firearms on campus. Advocates said it is a codification of what's already happening and will plant a seed of doubt in the mind of anybody considering an attack on a college campus in the Mountain State.
"Don't think that just because we don't have campus carry people can't bring guns on campus. For crying out loud, the doors are wide open. This is just saying the law abiding people have a right to carry if they choose to do so," said Justice.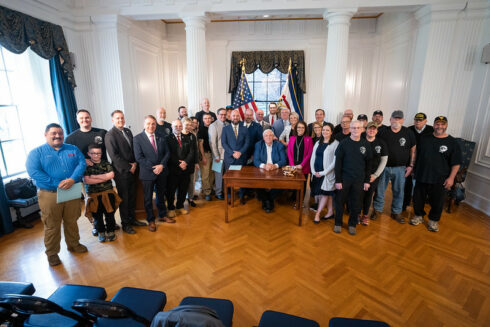 The National Rifle Association was quick to praise Justice and members of the Legislature who supported the bill.
"The Campus Self-Defense Act recognizes the fact that danger doesn't disappear just because you've stepped onto campus grounds," said NRA's West Virginia State Director Art Thomm. "Now, those who choose to exercise the right will have the ability to protect themselves, their classmates, and their loved ones should they need."
Also commending Justice was the top man with the U.S. Concealed Carry Association.
"On behalf of our 720,000 members nationwide, the USCCA applauds Governor Justice for signing this important measure into law.  We know the best defense against violent criminals is the responsible gun owner.  Our inalienable right to self-defense shouldn't stop due to arbitrary 'gun-free zone' rules and regulations. Students, educators, and school staff deserve the ability to protect themselves at all times – including on college campuses.  We commend the West Virginia legislature and Governor Justice for recognizing this reality by prioritizing the passage of SB 10, the Campus Self-Defense Act, to allow West Virginians with concealed carry permits to protect themselves and others on public college and university campuses in the state," USCCA President and Co-Founder Tim Schmidt said in a statement following the bill signing.  
The bill passed with overwhelming majorities in the House and Senate despite blanket opposition from the Presidents of WVU, Marshall, and other small colleges and universities in West Virginia. A number of students and faculty also spoke out against the measure at a public hearing before the House of Delegates. It was their opposition that caused House Speaker Roger Hanshaw to withhold his support. He was one of the few Republicans who voted against the bill in the House of Delegates.
"When they tell me things matter in terms of external perception of West Virginia, I try to be a good partner for them. Both of our universities were not supportive of the legislation and I joined them in making that statement," Hanshaw said soon after the vote on MetroNews Talkline.
WVU President Gordon Gee, soon after the signing, posted an open letter to students, parents, faculty, and staff of WVU. He detailed the path of the bill and reiterated the university's strong opposition.
"We have opposed this type of legislation many times in recent years, firmly believing that local control is the best path forward. We reiterated this to lawmakers on multiple occasions again this year. However, now that this bill has been signed into law, we must come together as a community and work through the implications as it relates to the overall safety of our campuses," Gee said in the letter.
The legislation does not take effect until July 1, 2024. During the meantime, the Universities will need to prepare for the changeover which will include providing secure storage for firearms legally carried on campus.
Justice hoped the mass shootings which have occurred on campuses around the country never happens in the Mountain State, but added the new law does not insure immunity that it won't.
"We can't insure in any way there won't be a problem, but for God sake's a living, we've got to stand rock solid by who we are, and by the Second Amendment, and all the greatness we are in this great state and send a message to the world. By God if you want to mess with us, we can mess back,' the Governor said.