One night, a Senate committee killed a bill that would have restricted underage marriages in West Virginia. The next evening, the full Senate resurrected the bill.
House Bill 3018 would remove the ability of an underage person to obtain consent to marry through their parents, legal guardians or by petition to circuit court. It overwhelmingly passed the full House of Delegates last week.
After its revival, the bill is up for a passage vote in the Senate on Friday. It still could be amended.
Nobody in a Wednesday evening committee meeting spoke against the bill, but a vote to advance it to the full Senate failed 8-9.
That vote was the talk of the Capitol on Thursday.
At the end of a Thursday evening floor session, the committee's chairman made a motion on the floor to discharge it. The Senate majority leader then called the question, meaning that there would be no further debate about the motion.
Senator Mike Woelfel, D-Cabell, had expressed frustration over what happened in the Judiciary Committee. On Thursday evening, he told senators that he is thankful for an opportunity to reconsider the legislation.
"I know there's a lot of contention over this bill, but I wanted to speak to it for a moment," Woelfel said. "What we have in this state is what's called grooming. And you have men in their 30s or older who groom young girls, and the next thing you know some girl has convinced her parents to let her get married. And it's really close to duress."
Woelfel, an attorney, said he once represented an eighth grader who was pursuing a divorce.
"It's hard to stay married," he said. "So I think we're moving into the modern era with this."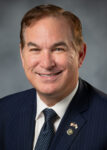 Senator Mike Stuart, R-Kanawha, voted against the bill in committee and said his parents are still together 50 years after getting married as teenagers.
"I can accept a number of 16," he said. "My parents were married at 16. They are disgustingly in love. To this day, they can't keep their hands off each other. And so I would ask this body to consider a more reasonable figure of 16. I support that figure. But the idea that somehow my parents made a mistake, I just disagree."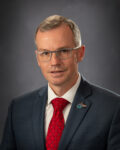 Senator Eric Tarr, R-Putnam, suggested the bill still could be changed before passage.
Tarr said he got married in high school and that's lasted for 33 years so far, "knowing what it means to be a mature high school student, two mature high school students in love and getting married and creating a life together. That's a family born and a family to stay together.
"So I think every one of us in this chamber values that and understands that. I also think that there's some things here to fix and that's what this bill is trying to do."