MORGANTOWN, W.Va. — West Virginia University President Gordon Gee promised a repositioning of the university's finances during his state of the university address Monday.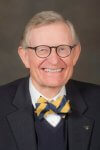 Gee said since the pandemic enrollment has dropped steadily and simultaneously improved graduation rates have formed one-two punch that projects a $35 million deficit for fiscal year 2024 that could balloon to $75 million over the next five years if steps aren't taken to trim the budget.
"Students chose not to return to college due to a strong job market, the rising cost of attendance and dare I say it- a cynical perspective on education," Gee said.
Gee said $35 million is about three percent of the $1.3 billion annual budget making the issue manageable in the short term. According to Gee, the entire higher education system nationwide is on shifting sands whether other leaders recognize it or not.
"We're going to determine a financial strategy in which we wring this structural budget deficit out of our system and then we have resources available to invest," Gee said.
During an appearance on MetroNews "Talkline" following his speech, Gee said the cuts would be begin through a transparent process.
"Let everyone know exactly what we are doing. Gather a lot of ideas. Move with speed. Speed is our friend and obviously data," Gee said.
Gee said WVU will implement the "First Principals," to put students first, embrace the land grant mission and people that are served and invest in initiatives that set WVU apart from the more than 4,000 other institutions across the country.
"These principals in many ways return us to our core roots and are critical as we prioritize the issues facing higher education and our own financial situation," Gee said during his speech.
He admitted later on "Talkline" that WVU has gotten away from putting students first.
"Like any large university, and we are a large institution, we have over time created too many things that we do not necessarily do well," Gee said. "We're going to have to look at people and programs but more importantly we are going to have to look at ways to grow our institution."
.@gordongee gave his state of the university address today, discussing important topics at @WestVirginiaU. What did he want addressed? He joins @DaveWilsonMN. WATCH: https://t.co/yCFQ3nDJuy pic.twitter.com/psB4vTWW31

— MetroNews (@WVMetroNews) March 27, 2023
One way to grow, according to Gee, is what is called the WVU Pledge program to assist Promise Scholarship recipients in reducing the cost of their education to zero.
Removing financial barriers is an important way to allow the student to focus on learning and making contributions to campus life. The WVU Pledge will cover remaining costs of tuition, fees, housing and meal plans for qualifying Promise scholars.
"Twenty-five percent of our students are on Pell Grants which means they are lower income students," Gee said. "But guess what, there are a many geniuses in West Virginia as there are in California- we just need to make sure students get the opportunity to come and flourish."
Students who meet the following guidelines will be automatically included in the program, no application is required.
1. Incoming first-time freshman as of the fall 2023 semester,
2. Admitted to WVU, WVU Institute of Technology or WVU Potomac State College by June 1,
3. A Promise Scholarship recipient with an Expected Family Contribution of zero,
4. Living in a residence hall during each semester the scholarship is received,
5. Has submitted a Free Application for Federal Student Aid, or FAFSA, and qualified for the Promise Scholarship by the May 1 priority deadline.
In preparation of Monday's speech, Gee said he spent weeks in focus groups on the Morgantown campus. Gee said he views the "First Principals" as the way to address fiscal challenges while growing the university and student body.
"If someone were to ask me what is the biggest challenge facing the university I would say complacency is the number one word," Gee said. "We are not going to be complacent- we have no room for complacency at our institution."
Gee is scheduled to talk more about what he announced Monday in a virtual Campus Conversation scheduled for Thursday at 11 a.m.