Gov. Jim Justice announced a campaign for United States Senate, introducing himself on the national stage, asking again for West Virginia votes and jumping into a race shaping up to be competitive from beginning to end.
"I want to tell you tonight I'm officially announcing my candidacy for United States Senate, and I promise you I'll do the job that will make you proud," Justice said.
His remarks emphasized tax cuts, anti-abortion policies and gun rights.
"We've got real challenges in front of us, do we not?" Justice said in remarks delivered, as usual, without notes.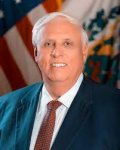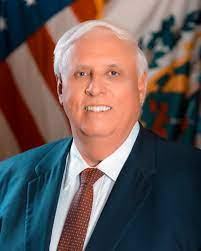 Justice is a two-term governor, first elected to that office in 2016 as a Democrat and then switching to become a Republican in 2017.
His family-owned businesses include coal holdings, agriculture properties, The Greenbrier resort and other hospitality enterprises. He is also the longtime girls basketball coach at Greenbrier East High School.
His campaign kickoff at The Greenbrier kicked off with an advertisement that declared "We need Jim Justice."
Then a series of speakers, including Senator Lindsey Graham, a Republican from South Carolina, took the stage to praise Justice. "The task this man is about to embark on will not be easy," Graham said.
Graham referred to 2022 election results, including losses by celebrity Republican candidates like Dr. Oz in Pennsylvania and football great Herschel Walker in Georgia, that kept their party in the Senate minority.
"We made mistakes in 2022. We maybe didn't nominate the right person for the state they were running in. I promise you, Jim Justice is the right person for West Virginia," Graham said.
Morning Consult reports that the number of registered voters who approve of Justice's job performance as governor is 66 percent. That polling makes Justice on of America's most popular governors.
Justice, 72,  has been hinting for a while about a U.S. Senate run. During his State of the State address on Jan. 11, he alluded to the clock ticking on his time as governor and suggested he might be up for a new role.
"I would tell you just this I won't be your governor a whole lot longer," Justice said then. "But I surely won't go away. You know, in fact, you're probably either be able to find me at home or you may find me in Washington."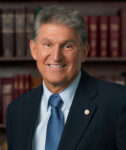 The Senate seat is currently held by incumbent Democrat Joe Manchin, who has served there since 2010. Manchin has held onto the seat, so far, even as West Virginia has been voting increasingly Republican.
He has said he'll announce his own election plans in December.
"I am laser focused on doing the job West Virginians elected me to do – lowering healthcare costs, protecting Social Security and Medicare, shoring up American energy security and getting our fiscal house in order," Manchin said.
"But make no mistake, I will win any race I enter."
Justice will also face Primary Election competition.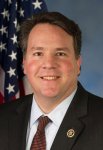 Already declared in the race for Senate is U.S. Congressman Alex Mooney, a Republican who lives in Charles Town. Mooney is backed by millions of dollars from the conservative organization Club for Growth.
A poll conducted by National Public Affairs showed that in a head-to-head primary election matchup, Justice would receive 55 percent of the vote with Mooney getting 24 percent.
This week, Mooney called Justice a "RINO" for Republican in name only. "You want someone who's more of a liberal Republican, there's Jim Justice," Mooney said.
Mooney's campaign engaged in some counter-programming today, releasing an ad against Justice. In reaction to Justice's announcement, Mooney called it a "terrible idea."
"Jim Justice has a liberal record and Republican primary voters will soon see that he is nothing but a Democrat in sheep's clothing. Supporting over $3 trillion in Biden spending, proposing massive tax hikes, and gun control are just a few examples of Justice's extreme liberal postures," Mooney stated.
"The D.C. establishment can call Justice a frontrunner all they want. Alex Mooney is the only true conservative in this race and the only candidate that will beat Joe Manchin next November."
Justice is being supported by Senate Minority Leader Mitch McConnell, the National Republican Senatorial Committee and the Senate Leadership Fund, the McConnell-aligned super PAC.
"Jim Justice is a proven winner whose record of creating jobs, cutting taxes, and fighting for conservative values has made him one of the most popular governors in the country," stated Steve Daines, chairman of the National Republican Senatorial Committee.
Senator Shelley Moore Capito, R-W.Va., said she would be at the Justice announcement and that she has worked well with the governor.
"We've been good friends for a long time, but we've also worked on some really meaningful economic announcements and programs. We've worked hand in glove on those kinds of things," Capito told MetroNews.
Looking ahead to a potential General Election matchup, Capito called her current Senate colleague Manchin a "formidable" political figure.
"Whatever he decides to do, he'll be tough. But I think Governor Justice will be tough as well."