MARTINSBURG, W.Va. — On the last day on the job for 39-year veteran Martinsburg Police Chief George Swartwood, his successor has been named.
Erin Gibbons, who most recently served as deputy chief, will assume the role officially Sunday.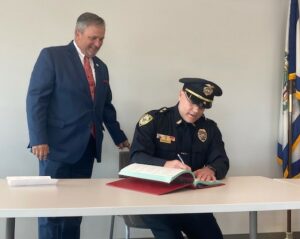 Martinsburg City Manager Mark Baldwin said Gibbons has already served Martinsburg for 17 years.
"Chief Gibbons possesses a thorough understanding of critical issues and priorities currently affecting Martinsburg and our police department. I am confident that Chief Gibbons will implement
programs and initiatives that increase public trust, equity, accountability, constitutional policing and address public safety in our city," according to Baldwin.
Gibbons has been deputy chief for three years. Prior to that he served as an officer with the department beginning in 2006 and rising through the ranks to corporal beginning in 2019.
"Chief Gibbons is an accomplished officer who possesses administrative, supervisory and instructional experience. He has assisted the Martinsburg Police Department with direct oversight of operations, policies and budget oversight," Baldwin said.
For his part, the new chief says he is "extremely grateful and honored for the opportunity to lead the employees and sworn officers of the Martinsburg Police Department and serving our community."
"I am excited to continue and improve our efforts to align the Martinsburg Police Department with 21st century policing, strengthen public trust, improve officer wellness, and demonstrate accountability and transparency all while maintaining a standard of professionalism and respect to members of this community. I have had the privilege of working with the dedicated men and women of the Martinsburg Police Department for almost two decades. I can personally attest to their professionalism, passion and proficiency."
Before coming to Martinsburg, Gibbons was a correctional officer at the Eastern Regional Jail from 2002-2006. He's a Navy veteran.
On Thursday night, Chief George Swartwood was lauded by the mayor and other leaders in the city.
Mayor Kevin Knowles said he had known Swartwood for 15 years.
"Everybody on this force and in this city is his family. He grew up here.  He believes that this city is the best city in the state, and maybe even the world according to him.  George is going to be very well missed."
It was an emotional day for the outgoing chief, as he reflected.
"All 39 years were with the City of Martinsburg.  It's been an absolute great profession, a great job.  I've loved every minute of it.  It's what I've always wanted to do."
"I have the best police department in the entire country ," Swartwood said. "I've got the best officers ever.   It's been a great ride."
"It doesn't seem like 39 years ago," Swartwood said, reflecting that his first day was April 15th, 1984.  "If I could, I'd do it all over again."