WHEELING, W.Va. — A Brooke County man who tried to influence the jury that was hearing the case against a Pittsburgh mass shooter pleaded guilty to federal criminal charges Tuesday.
Hardy Lloyd, 45, of Follansbee, admitted to making online threats to jurors and witnesses connected with the federal hate crimes trial of Robert Bowers, the Tree of Life Synagogue mass shooter.
U.S. District Attorney Bill Ihlenfeld told MetroNews Tuesday that federal investigators discovered Lloyd's activities during the trial.
"We were very concerned when we first became aware of it. We monitored him very closely and as soon as they trial was resolved we charged him by complaint, arrested him and detained him," Ihlenfeld said.
Bowers, who killed 11 worshippers and injured six others in the 2018 shootings, was convicted in the trial and the jury sentenced him to the federal death penalty in early August.
Lloyd is described as a self-proclaimed 'reverend' of a white supremacy movement. Ihlenfeld said Lloyd tried to convince his followers to do harm to those associated with the trial.
"He wanted his followers to inflict harm upon the witnesses in that case, some of whom were victims. There were a number of people who survived the shootings at Tree of Life, he was attempting to have his followers do harm to those individuals," Ihlenfeld said.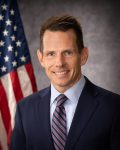 Lloyd distributed threatening social media posts, website comments and emails during the trial. Ihlenfeld said Lloyd admitted Tuesday he did so because of his hatred for the Jewish religion and those connected to it.
"Mr. Lloyd's heart is full of hate, sadly, and he intended to do the things that we allege," Ihlenfeld said.
Ihlenfeld said he's pleased with the guilty plea but federal prosecutors were not going to budge on the 78-month (6.5 year) prison term which is on the higher side of the federal sentencing guidelines.
"The plea kept some of the witnesses from having to testify including some of the folks who had to testify in the Bowers trial in Pittsburgh. Whenever you can avoid having to put someone through that stressful process it's a good thing," Ihlenfeld said.
Lloyd pleaded guilty in front of a U.S. Magistrate Judge Tuesday. U.S. District Judge John Preston Bailey will decide at a later date whether or not to accept the plea. A sentencing date will be scheduled.
Ihlenfeld said he's confident Lloyd will spend a long time in prison.
"He remains locked up and he'll continue to be locked up for years to come," he said.
The FBI assisted with the investigation.
Also commenting on Tuesday's plea:
"Hardy Lloyd attempted to obstruct the federal hate crimes trial of the deadliest anti-Semitic attack in American history," said Attorney General Merrick B. Garland. "His guilty plea underscores that anyone who attempts to obstruct a federal trial by threatening or intimidating jurors or witnesses will be met with the full force of the Justice Department."
"Mr. Lloyd thought he could get away with making threats against members of a jury to influence their decisions and now he'll be accountable for his actions," said FBI Pittsburgh Special Agent in Charge Mike Nordwall. "Mr. Lloyd's words go far beyond speech that is protected by the constitution and cannot be tolerated. The FBI will vigorously pursue those like Mr. Lloyd who threaten and intimidate others based upon biases and personal differences."