Gov. Jim Justice, when asked about several noteworthy liabilities on his U.S. Senate financial disclosure form, said they're a sign of a tenacious approach to finances and positive personal relationships.
For many years, Justice was described as West Virginia's only billionaire, but Forbes downgraded him after 2021 debt disputes. Justice's political persona has been as a businessman who can buzz the numbers.
U.S. senators and candidates have to submit financial disclosure forms that list sources of income, assets and liabilities. Justice submitted his last week, revealing assets valued at millions of dollars — with many listed as providing little or no income. The disclosure also showed millions of dollars in personal liabilities.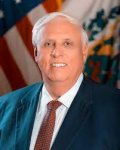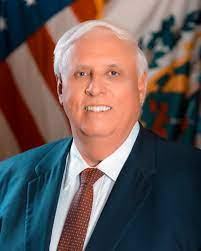 "You'll see a family that has worked really, really, really hard — a family that, at one time, if you're really fair and you'll step back from it, you'll say 'Well, when things were really tough, why didn't they take bankruptcy like every coal company almost in the land that was in trouble that wrote off hundreds and hundreds of millions, if not billions, of dollars.' And we didn't do it," he said.
"There's no big pots of gold sitting around. Absolutely, at the end of the day, you can see that. And from that you can see a family that sometimes are a little late on a bill and everything, but we pay them, don't we?"
Among the financial disclosure filings a couple of specifics stood out:
Two debts on the filing are promissory notes characterized as between $1 million and $5 million each to Bray Cary, the broadcaster and businessman who served as Justice's senior adviser, as well as his Cary Foundation Inc. No explanation is provided for the notes, both issued August 31, 2021, shortly after Cary left the administration.
And, the disclosure form lists several personal lines of credit from companies in the Justice family's network of businesses to Jim Justice at 0 percent interest rate with payment on demand.
West Virginia reporters asked about each of those financial questions during an administration news briefing. MetroNews asked about the loans from Cary, wanting a general explanation as well as more context about whether there were any loans from Cary prior to the ones listed on the disclosure.
"What's on the disclosure form is exactly what happened, and everything. To get into the play-by-play of those funds, that's not fair. That's not fair to Bray Cary. He's a good, good man, did a great job here, and really and truly with great pride I appointed him to the West Virginia (University) board of governors. He's doing a great job there. There's no question in anybody's mind about his love to WVU," Justice said.
"We had a business relationship, and that's what we did. I'm sure Bray benefited from the business relationship. Bray benefited from the business relationship. And that's all there is to it. Everything I have in the world is an open book. I'm not going to do anything that's not right. You make mistakes from time to time, but at the end of the day we're going to do the right stuff and we're going to continue to do the right stuff."
MetroNews texted and emailed Cary to invite comment for this story, but didn't hear back.
Cary, prior to joining the Justice administration, had been publicly critical of Justice's debts and financial dealings. But the two mended fences as Cary came on board as senior adviser in 2018.
"From the time that Bray Cary was here, what a job he did. He did a really, really good job. And I'm proud of our friendship, and I'm going to be that way until I die," Justice said.
The personal lines of credit to Justice from his own businesses also came up.
An example is a line of credit from the Greenbrier Hotel Corp., owned by the Justice family, to Jim Justice for $5 million to $25 million at 0 percent interest.
More examples include a line of credit from the Justice-owned Tams Management of $500,000 to $1 million to Jim Justice at 0 percent interest. And: a line of credit from Bellwood Corporation of $1 million to $5 million at 0 percent interest.
Reporter Steven Allen Adams of the Ogden Newspapers asked about that matter: "I wonder if you could explain that a little bit and whether you think it looks like you're hiding possible income — or if it can be perceived that way."
Justice responded, "I don't get an income from The Greenbrier." He continued, "From the standpoint of me receiving a check or an income from The Greenbrier, I don't receive a check or an income from The Greenbrier."
The headline for the resulting newspaper article wound up being "Justice deflects questions on U.S. Senate financial disclosure report."
Justice declared his candidacy for a competitive and expensive U.S. Senate race on April 27, facing Congressman Alex Mooney in the Republican Primary and aiming for incumbent Senator Joe Manchin in the General Election.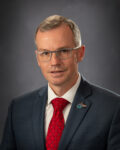 State Senator Eric Tarr, a Republican who has endorsed Mooney, had already raised questions about the no-interest lines of credit from Justice businesses and the loans from Cary. Tarr said the governor's responses were not particularly revealing.
"He's avoiding the question. That's the primary thing that needs to be realized," Tarr said.
He elaborated, "It was crafty the way Governor Justice phrased his words that 'I never received a check or income from The Greenbrier.' The reality is, if you have a company that you own loaning you money, that is not income to you and so it's the correct answer. It's not income, but it's not saying you didn't pay yourself through a loan.
"If he paid himself through lending to himself he didn't do it with a check. He did not straightforward answer the questions posed by Ogden media."
And he continues to wonder what the financial relationship was with Cary.
"It perks my ears up. If that would have happened within a state agency, it makes you look for impropriety. It's fairly significant to note it's 10 percent interest on stuff too, so apparently Mr. Cary thought it was risky, whatever it was," Tarr said.
"The reason it's on disclosures is to see if there's things that should be asked about. To say that it's too far to reach into the business dealings related to those liabilities is to be completely non-transparent to the public that you're asking to trust you as a U.S. senator."