CHARLESTON, W.Va. — Former Massey Energy CEO Don Blankenship, found guilty of conspiracy to violate mine safety laws, faces up to one year in prison but was cleared Thursday on two counts of making false statements about Massey safety procedures to the Securities and Exchange Commission and investors.
The investigation that began in the dust, debris and confusion of an Upper Big Branch Mine explosion that killed 29 coal miners in April 2010 ultimately led to the Robert C. Byrd United States Courthouse, where a jury deliberated parts of 10 days.
The conspiracy conviction carried a misdemeanor charge. A sentencing hearing for Blankenship, 65, was tentatively scheduled for March 23, 2016.
After the verdict, defense attorney Bill Taylor told reporters Blankenship never should have been brought to trial in the first place and he plans an appeal, adding that he thought the jury was coerced into reaching a verdict.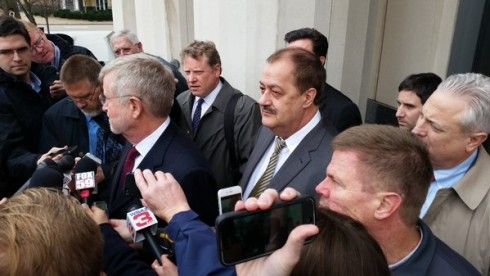 Assistant U.S. Attorney Steve Ruby, who handled most of the courtroom arguments for the government, call the verdict "an enormous victory," while U.S. Attorney Booth Goodwin said the verdict sends a message to mining companies that they should follow mine safety laws.
Blankenship faced three charges for allegedly conspiring to violate mandatory mine safety regulations in the two years prior to the UBB Disaster along with making false statements to the U.S. Securities and Exchange Commission and securities fraud for allegedly lying to Massey investors in the weeks and months after the explosion.
Family members of the miners who died, state and national media, attorneys and other spectators packed the fifth-floor courtroom where U.S. District Judge Irene Berger has presided over the trial since the start of jury selection on Oct. 1.
The jury, made up of eight women and four men, was seated Oct. 7. Three female alternates were dismissed before the start of jury deliberations Nov. 17.
Some 27 witnesses testified during 24 days of testimony in Blankenship's trial that centered on questions such as:
Was Blankenship a safety innovator or did he consider safety to be second to production?
Did Blankenship encourage law violations in the name of "running coal" or was he concerned about compliance and urged his subordinates to follow suit?
Why were so many safety violations recorded at the UBB in the two years before the deadly explosion?
What motivated Blankenship to sign off on filings with the SEC and statements to shareholders that included the following statements on behalf of Massey: "We do not condone any violations of MSHA regulations" and "We strive to be in compliance with all regulations at all times"? Did he believe the statements or was he trying to protect his own fortune that was tied in Massey stock?
Was there a conspiracy at Massey, whether verbally agreed to or otherwise, to flout mine safety regulations?
The verdict brought some conclusion to what has been called a landmark case dealing with mine safety law compliance, issues of workplace conditions, financial reporting procedures and executive responsibility.
Blankenship sat at the top of Massey's organizational structure, demonstrated for the jury with large defense charts early in the trial, and, in this case, has been called by the U.S. government to answer for conditions at UBB — all the way down to the belt line level.
In his opening statement, Steve Ruby, assistant U.S. attorney, painted Massey Energy as a company where "breaking safety laws was not just permitted, but expected" and said Blankenship was the "man in charge."
Initially indicted on four charges in Nov. 2014, Blankenship was defiant from the beginning and his defense team, made up of six primary lawyers from Washington, D.C. and Morgantown, returned again and again throughout the trial to their assertion that Blankenship committed no crimes by running Massey profitably.
According to SEC filings, Massey reported $351 million dollars in cash on hand in June 2008, an amount that had grown to more than $1 billion by March 2010 — one month before the explosion.
"He's not guilty and we should have never been here in the first place," were the last words Bill Taylor, Blankenship's lead defense attorney, told the jury in his closing argument in November.
Taylor admitted to the jury early on that Blankenship "wouldn't win any popularity contests in West Virginia," but maintained Blankenship "did not believe that the way to make money in the coal industry was to run roughshod over regulations."
In all, 27 prosecution witnesses testified:
Tracy Stumbo, an expert in mines
Bobbie Pauley, a former UBB red hat & black hat miner
Tyler Childress, MSHA program analyst
Brent Stanze, FBI special agent
Sandra Davis, Blankenship's former executive assistant
Karen Hanretty, former Massey PR agent
Gary Young, former UBB miner
Michael Smith, former UBB miner
Brent Racer, former UBB miner
Charlie Justice, former dispatcher at UBB
Clifton Stover, former rock duster at UBB
David Hughart, former president of Massey's Green Valley mine group
Rick "Smurf" Hutchens, former UBB section foreman
Rick Hodge, former UBB superintendent
Larry Adams, former UBB fireboss
Shawn Michael Ellison, former UBB shuttle car operator and roof bolter
Stanley "Goose" Stewart, former UBB continuous miner operator
Keith McElroy, MSHA investigator
Scott Halstead, diagnosed with black lung as fire boss at UBB
Lisa Williams, former executive assistant to Chris Blanchard
Chris Blanchard, former president of Massey's Marfork mine group that included UBB
Harold Hayhurst, MSHA field office supervisor
Charles Lilly, former UBB security worker
Bill Ross, former MSHA ventilation expert who went to work for Massey after retiring from MSHA in 2008. He wrote the Ross Memo that was referenced multiple times in the trial.
John Poma, former Massey chief administrative officer
Frank Torchio, forensic economist, president of Forensic Economics, Inc.
James Lafferty, FBI special agent who has been investigating UBB for more than five years
The defense called no witnesses, opting to rest Blankenship's case on Monday, Oct. 16.
While this case was not about the cause of the UBB Disaster or whether Blankenship was responsible for it, UBB was always in the background. Several of those testifying shed tears or showed other emotions while talking about conditions at the mine and those killed in it.
Ross, for example, wrote in a Summer 2009 e-mail, after offering a frank assessment of Massey's safety failures and the prospects of his recommendations for changes being followed, "I'm so thrilled about a new Massey Energy Corporation. Let's hope that new and better things are going to happen."
In court on Nov. 4, Ross broke down while reading that e-mail which was sent less than nine months before 29 coal miners died in the explosion at the Upper Big Branch Mine.