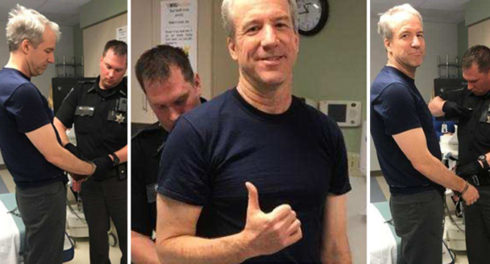 — By Ben Conley, The Dominion Post
MORGANTOWN, W.Va. — Deputy Mayor Mark Brazaitis turned himself into Morgantown police Tuesday for evaluation after an overnight search in which officers feared for his mental state.
"Tell people I'm fine," Brazaitis texted to The Dominion Post. "When you want to do great things for the city and the state, sacrifice is required. I am not afraid."
The text was accompanied by photos of a smiling Brazaitis in a local emergency room with law enforcement.
A news release issued by the city revealed Brazaitis checked himself into Ruby Memorial Hospital around 10:30 a.m. Tuesday for treatment.
That concluded a bizarre 14-hour stretch in which sources said Brazaitis left his Courtney Avenue home during an attempt to have him involuntarily committed for mental evaluation.
City Manager Paul Brake first confirmed around 11:45 p.m. Monday that police were seeking to contact Brazaitis pertaining to a "non-criminal matter."
The Monongalia County Sheriff's Department assisted with the overnight search. No injuries were reported.
An author and English professor at West Virginia University, Brazaitis has discussed his personal struggles with mental illness, and wrote about the topic in a 2012 collection of short stories, "The Incurables."
As the search for the deputy mayor stretched into the morning, Brake said, "We are concerned about him and his well-being."
Monday began with Brazaitis announcing plans to take on Democrat incumbent Joe Manchin and Republican Patrick Morrisey as a write-in candidacy for the U.S. Senate. His platform called for the government to fund universal health care and organic farms, along with redirecting $700 billion from the Dept. of Defense to improve infrastructure across Appalachia.
On Tuesday night, at the City Council's regularly scheduled meeting, some councilors were expected to seek Brazaitis's resignation as deputy mayor. The city's communications manager, Andrew Stacy, confirmed the council meeting will proceed as scheduled.
Brazaitis recently went against the council's wishes by individually pursuing an $8.5 million county-wide levy for a new ice skating rink. After making that request, he called Monongalia County Commission president Tom Bloom dishonest and encouraged the purging of county leadership to install "real Democrats" who are progressives.
Brazaitis repeatedly has attacked his employer, WVU, for entering public-private partnerships, including the $45 million Mylan Park recreational center. Last month he claimed the university was "gutting this town" by taking one-third of Morgantown's footprint off the tax rolls.
The City of Morgantown released the following statement before 10 a.m. Tuesday morning.
At approximately 8:10 p.m. on Monday, August 6, Morgantown Police were dispatched to the residence of Morgantown Deputy Mayor Mark Brazaitis following a call for service from the residence. When officers arrived at the residence, Mr. Brazaitis was not there. No injuries have been reported and law enforcement is handling this as a non-criminal matter. The Morgantown Police and Monongalia County Sheriff's office are currently searching for Mark. We are concerned about Mr. Brazaitis and his well-being and would ask that the family's privacy be respected at this difficult time. We will release additional information as it becomes available.
A message sent to WVU seeking comment on Brazaitis's status was not immediately returned. Fall classes begin Aug. 15.