MORGANTOWN, W.Va. — It didn't take long for the attacks to surface during Thursday night's U.S. Senate debate between Democrat incumbent Joe Manchin and Republican Patrick Morrisey.
The first question of the hour-long debate — the only such event between the two — involved political rhetoric and civility, asked in light of Saturday's attack at a Pittsburgh synagogue and pipe bombs sent to prominent Democratic figures.
"The tone needs to be tamped down from the leader of our free country and free world, President Trump, on down to each one of us as elected officials," Manchin said.
"People think it's OK to attack and say anything you want to, and I hope that changes. I hope that the president would tone down the rhetoric, tone down the tweets."
Morrisey, while rejecting all forms of violence and anti-Semitism, cautioned about placing blame on the president.
"When I start seeing the finger-pointing like I saw last weekend, to me, that's crass. That has to come to an end. That's not a Republican or Democratic position," he said.
Morrisey said Trump has been a great president so far and noted his rally set for Friday in Huntington.
"President Trump has supported my candidacy in contrast to Sen. Manchin because Sen. Manchin supported Hillary Clinton when it really mattered most, and the dishonest ways of Washington," he said.
The West Virginia Broadcasters Associated hosted the debate, which was staged at West Virginia Radio Corporation offices in Morgantown.
Morrisey frequently mentioned Manchin's support of Clinton in the 2016 presidential campaign. He also namedropped top Democrats Senate Minority Leader Chuck Schumer, D-N.Y., and House Minority Leader Nancy Pelosi, D-Calif.
"When you look at all the policy positions that Sen. Manchin says he supports, the fact is, if Hillary Clinton were president none of those would be possible," Morrisey said. "We wouldn't have Judge Gorsuch. We wouldn't have Judge Kavanaugh."
"We would have abortion on-demand because we'd have the most radical, pro-abortion president in history. (The) Second Amendment would be under vicious assault."
When moderator Hoppy Kercheval asked Manchin about supporting Clinton after her controversial comments regarding the future of the coal industry, Manchin said Clinton was dedicated to addressing economic distress in southern West Virginia.
Manchin said he told Clinton about the problems in the region, including completing the King Coal Highway and the lack of broadband internet.
"She looked at me and said, 'Joe, if I become president, I'm sending my husband, Bill. You two make that happen,'" Manchin recalled.
"I could have said, 'Sorry, Hillary. Nice offer, but I can't take it. It might hurt me politically.' Am I there for me, or am I there for helping West Virginia, especially southern West Virginia which was devastated? I made a decision to do my job and help my state."
Morrisey said Manchin "doubled down" on Clinton while his office led the fight against regulations affecting the coal industry.
"He's aiding and abetting Hillary Clinton. That's why he's a dishonest, Washington liberal. Because he says he's going to try to protect coal, but his policies and support say otherwise," he added.
Kercheval asked Morrisey about a federal lawsuit he is involved in that Manchin has said will cause people with pre-existing conditions to lose insurance coverage.
"The suit is to get rid of 'Obamacare,' but the judge would ultimately determine what the remedies are," Morrisey said. "This is another example of the misinformation from the Hillary Clinton, the Pelosi, the Schumer team because they have a problem."
Morrisey said he supports protecting coverage for pre-existing conditions, but the current law needs reforming.
"You don't need 'Obamacare' to protect people with pre-existing conditions," he said.
Manchin has been active in trying to get the Senate Legal Counsel to intervene in the lawsuit, including introducing an amendment that received unanimous Democratic approval. The Department of Justice chose not to defend the law.
"Just drop your lawsuit, Patrick," Manchin said. "If you drop your lawsuit, we're good."
Manchin added coverage for pre-existing conditions needs to be ensured.
"Mitch McConnell has had on his desk a bill modeled after Alaska, the reinsurance program that would reduce, basically, people's premiums 20 to 40 percent overnight. It's been there since July when we worked on it," he said. "Twenty-four of us signed the bill. It sits on Mitch McConnell's desk because — you know what happens? — the person he pledged his allegiance to basically doesn't want to fix anything because then you can't blame anybody."
Morrisey criticized Manchin for what he described as being "all sides of every issue."
"I'm a conservative fighter for President Trump. He made his bed with Hillary Clinton, and that's bad for West Virginia," Morrisey said.
"I think you need to know Hillary Clinton is not on the ballot. (It's) Joe Manchin and Pat Morrisey," Manchin quipped. "Pat, I'm right here."
Manchin defended being one of the final votes to confirm Kavanaugh to the U.S. Supreme Court, saying he wanted to review all information related to the nominee, including the FBI report on sexual assault allegations against Kavanaugh.
He also said while the Tax Cuts and Jobs Act was fiscally irresponsible — noting an increase to the national deficit — he would support making the changes necessary to make the individual tax rates permanent; the changes are set to expire in 2025.
"They need to adjust the corporate tax from 21 to 25 (percent.) It needs to go back and take all the exemptions off from all of his wealthy friends, his wealthy friends from the lobbying industry that's benefited from this," Manchin said, referencing Morrisey.
The House of Representatives voted in September to make the individual tax rate changes permanent.
Morrisey did not touch on the impact of the legislation on the deficit, instead focusing on the economic benefits of the tax cuts.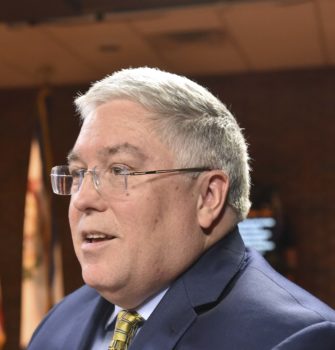 "President Trump, when he comes in tomorrow for the rally, he's going to be talking about the Trump tax cuts, what it's doing for West Virginia. It's good policy," he said. "The fact remains: Sen. Manchin votes against West Virginia when his vote is needed. He would have to wait. He has to get Chuck Schumer's permission before he votes. That's not the leadership we need from West Virginia."
Manchin also criticized Morrisey for his connections with lobbying efforts for the drug industry, while Morrisey jabbed Manchin for his ties to Mylan, including thousands of dollars Manchin has received from the company, the 2016 hike in the cost of EpiPen and his daughter's role as CEO.
Manchin and Morrisey both said they believe efforts should happen to secure the U.S.-Mexico border. In regards to Trump's comments this week to change the 14th Amendment concerning birthright citizenship, Morrisey said he wants to first examine the Trump proposal. Manchin said the president cannot change an amendment on his own.
Trump's rally Friday will be at the Huntington Tri-State Airport's Hanger 3 and is part of a two-stop day for the president, who is working to help Republicans keep control of the Senate and House of Representatives.
Manchin leads Morrisey in recent polling; the MetroNews Dominion Post West Virginia Poll has Manchin up by 5 percentage points (close to the poll's 4.9 percentage point margin of error), and an Emerson College poll has Manchin leading by 5 points (with a margin of error of 3.2 percentage points).