CHARLESTON, W.Va. — By next October, a federal REAL ID driver's license, ID card or other approved identification alternative, like a passport, will be required to board a plane or enter a federal building in the United States.
REAL ID driver's licenses are designated by gold stars.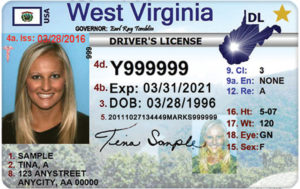 Those not compliant are labeled "Not For Federal Identification" and have no gold stars.
In general, the following documents are required for a REAL ID driver's license or ID card:
– one proof of identity, like a birth certificate;
– one proof of Social Security number;
– two documents proving West Virginia residency;
– proof of legal presence if not a U.S. citizen;
– and documents detailing name changes, in some cases.
A full list of acceptable documents was available HERE.
There is a $10 fee.
For flying, the requirement applies to every air traveler over the age of 18.
"You don't have to wait until close to (next) October. You can actually renew your driver's license up to two years ahead of time," said Natalie Holcomb, public information specialist for the state Division of Motor Vehicles.
Holcomb estimated about 40 percent of West Virginians already have compliant licenses or ID cards.
The state began issuing REAL ID licenses in Jan. 2012. Since then, drivers have had a choice in ID forms.
"We have been ready for many years," Holcomb said.
"Now the federal government has decided that is the official cutoff (Oct. 1, 2020), the official deadline for when they're going to begin starting to enforce it."
Other states have lagged with implementation.
Nationwide, it's estimated 27 percent of residents have REAL IDs.
The REAL ID Act, which Congress passed in 2005, included the 9/11 Commission's recommendation that the federal government "set standards for the issuance of sources of identification, such as driver's licenses."