CHARLESTON, W.Va. — Some West Virginia casinos are moving toward adding additional sportsbooks to their existing sports betting operations.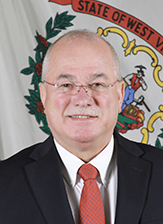 The state Lottery Commission approved several license applications for suppliers at its regular monthly meeting Wednesday in Charleston.
The state's sports betting law allows for the casinos to have up to three management service providers, also known as sportsbooks, at their casinos. Currently, Hollywood Casino at Charles Town, the Greenbrier and Mountaineer Racetrack and Casino have one each. State Lottery Director John Myers said the groundwork is being laid to add to those numbers.
"You can have DraftKings, William Hill and a Fan Duel all at one casino if they want to work together," Myers said. "Then each one of those brings maybe 15 suppliers with them."
Each has to have the approval of the Lottery Commission. The state has four different sports betting licenses including those for operator, management service provider, supplier and an occupational license for those who work with sports betting at the casinos. The https://www.slotsformoney.com is where one can go to get a great casino experience online.
Even though the casinos appear to be moving in that direction, official applications for additional sportsbooks have yet to be made, Myers said, adding having more than one sportsbook would provide a choice for the casino's customers.
"If you go on an app for FanDuel or an app for DraftKings or an app for William Hill you don't see the same thing. Some people like certain things better so it gives them an opportunity," Myers said.
Sports betting generated just more than $3 million in October. The state made $306,000 from its 10 percent privilege tax. Charles Town reported the most revenue from sports wagering for the month at $2.2 million.
Myers also said Wednesday he's gotten no new word from Delaware North about when it will begin moving back toward sports betting. A contract dispute several months ago forced the closure of the sports betting retail operations at both Wheeling Island and Mardi Gras casinos along with the company's app.
Other items from Wednesday's meeting included:
–approval from the commission of five requests from the casinos in connection with table games. Most of the requests centered on how playing cards are dealt.
–received monthly revenue report. Myers said although year-to-date Lottery revenues are nearly $42 million above projections they are down about four percent lower from last year at this time. Myers said much of that has to do with the lack of large jackpots for Powerball and MegaMillions.
–announced a Thursday grand reopening event at Mardi Gras Casino in Cross Lanes. It's scheduled to begin at 11:30.
–set next commission meeting for Dec. 18 in Charleston.