The state lawmakers who will lead West Virginia's redistricting efforts have been named.
The Senate and the House of Delegates each voted during interim meetings this week to create select committees on redistricting, which is a process to establish new legislative districts after the 10-year federal Census.
Each chamber appointed a bipartisan set of members to the committee. Republicans outnumber Democrats in line with the current elected makeup of the chambers. Care was taken to guarantee that current congressional districts are equally represented, according to legislative leaders.
The Joint Committee on Redistricting will be led by Senator Charles Trump, R-Morgan, and Delegate Gary Howell, R-Mineral.
Other members include senators Charles Trump, Dave Sypolt,  Mike Caputo, Glenn Jeffries. Rupie Phillips. Chandler Swope. Eric Tarr, Ryan Weld and Mike Woelfel as well as delegates Amy Summers, Bill Anderson, Brent Boggs, Nathan Brown, Moore Capito, Paul Espinosa, Shawn Fluharty, Geoff Foster, Marty Gearheart, Sean Hornbuckle, Eric Householder, David Kelly. Kayla Kessinger, Daniel Linville, Zach Maynard, Jeff Pack, Matt Rohrbach, Ruth Rowan, Doug Skaff, Joe Statler, Erikka Storch, Steve Westfall and John Williams.
One big issue will be how to divide West Virginia's congressional districts. Early Census data concluded that West Virginia will lose one of its three seats in Congress. So how legislators split the remaining districts would determine which current representatives might wind up having to face off against each other.
Representatives of West Virginia's Legislature will also map out revised districts for the state Senate and House of Delegates.
Lawmakers have been talking about actually pulling together the new districts during a special session next fall. The state is still awaiting final data from the U.S. Census Bureau.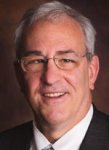 "Here's a problem that confronts us right away. We don't have the Census data yet," Trump said on MetroNews' "Talkline."
"Normally after a Census the Legislatures of all the states would have the data in April, and we don't have it. We've been told we're going to have probably county-level data by mid-August and maybe not the final detailed data, Census-block data until the end of September, which puts us on a pretty right timeline."
Trump said there are already plans to hear from the public.
The Joint Committee on Redistricting will be traveling through the state this summer, hosting public meetings and gathering comments.
"What we want to do is have the joint committee, House and Senate members, conduct a series of public hearings, information gathering sessions around the whole state of West Virginia so we can hear from the people about what they think about how the districts should be configured — state legislative districts as well as the two congressional districts we'll have after the process is ended," Trump said.
Charlie Trump, West Virginia State Senator (R-Morgan), joins @HoppyKercheval to discuss drawing the map based on what the census numbers show. WATCH: https://t.co/yCFQ3nDJuy pic.twitter.com/elAyrU6ZRD

— MetroNews (@WVMetroNews) June 9, 2021