CHARLESTON, W.Va. — Hospital administrators across West Virginia expect the number of COVID-19 patients they are caring for to grow at least for the next few weeks as the state experiences the full impact of the Omicron variant.
COVID-related hospitalizations were at 997 Saturday. The previous pandemic high is 1,012 patients which came on Sept. 24, 2021.
Even though there's a nationwide leveling off of Omicron cases in recent days and several governors including Maryland Gov. Larry Hogan have announced the variant has peaked in their states, that isn't the case in West Virginia.
"We still have not seen the peak of COVID-19, the Omicron variant in West Virginia, our numbers are rising," state Coronavirus Czar Dr. Clay Marsh said during last Friday's media briefing on the coronavirus.
West Virginia Hospital Association President Jim Kaufman said hospitals expect more patients.
"Because of our more geographically dispersed population, it's going to take a little longer for them (residents in rural areas) to be exposed and the hospitalizations coming in," Kaufman said.
Hospitals have not run out of beds, according to Kaufman, but it's the shortage of workers that continues to be the main issue.
"We have several hospital workers that are out due to exposed COVID or simply they have resigned or left the state to take opportunities elsewhere because there's such a national demand for health care workers," Kaufman said.
He said it's not just a shortage of nurses but it also includes respiratory therapists, phlebotomists and non-clinical employees like those in environmental services and nutritional services.
"The entire health care delivery system," Kaufman said.
Some smaller hospitals in the state are at or near capacity. Princeton Community Hospital announced Friday it was at full capacity in its intensive care unit and was requesting staffing help from the West Virginia National Guard.
"What we've seen with Omicron variant is a lot of people presenting symptoms, we're still seeing people that need to be in the hospital," PCH CEO Karen Bowling told WVNS-TV.
Hospitals in the Eastern Panhandle are also very busy.
Donnie Grubb, trauma coordinator at WVU Medicine's Berkeley Medical Center in Martinsburg. told the Panhandle News Network they're seeing a surge at Berkeley and Jefferson Medical Centers as well as other hospitals in the region.
"Our hospitalizations are up drastically. We are functioning at capacity or over capacity most days, patients are waiting for ICU beds," Grubb said.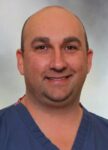 There are breakthrough cases, but Grubb said the most gravely ill are those who came in unvaccinated.
"We have 86 total covid patients hospitalized and 63 of those were unvaccinated," Grubb said last week. "We are seeing the breakthroughs which are normal but they are not the critically ill folks."
State InterAgency Task Force Director Jim Hoyer predicted Friday the help from the Guard would be increasing. He expected as many as 200 Guard members to be assigned to hospitals as the new week begins.
"Additional Guardsmen are being trained," Hoyer said.
Twenty-five Guard members went to work at Charleston Area Medical Center last week. A dozen other hospitals are scheduled to receive Guard members Tuesday.
Kaufman said the continued staffing issues have caused some hospitals to have beds with no one to staff them.
"So literally we're taking services off-line to make sure that we can provide the best setting that we can—and try to figure out what we can do to defer or delay procedures that can wait," Kaufman said.
Marsh said must do what's necessary to get through the current surge.
"Our basic mission is to save lives and make sure we protect the capacity of our hospital systems," he said.