Evan Jenkins, fresh off his resignation from the state Supreme Court, was among those who testified at a public hearing in favor of a bill that would eliminate lawsuits contending injuries or fatalities occurred because employers knowingly did not put up proper safeguards.
Jenkins also testified about the same legislation Thursday before a House of Delegates committee.
Today, Jenkins made reference to his Feb. 4 resignation from the court, saying he had moved on "to work on behalf of improving West Virginia's business climate and attracting jobs and keeping jobs in our state."
In this instance, Jenkins was speaking about House Bill 4394 and on behalf of Alleghany Wood Products, a timbering company with operations in Petersburg and other locations.
That company and some others contend the cost of insurance to cover "deliberate intent" cases has become so restrictive that it's hard to compete, remain in business and pay the workforce.
"Insurance isn't available. Nobody wants to write the risk. And that's why this important legislation needs to be passed," Jenkins told lawmakers today.
"This is about a level playing field and making sure we can compete, we can grow jobs in our state."
Lawmakers sponsoring House Bill 4394 propose altering a section of state code dealing with workers' compensation, striking out multiple paragraphs that previously laid out the steps for families taking additional steps to file lawsuits over injuries or deaths "from the deliberate intention of his or her employer."
In other words, workers compensation claims would be the only avenue available for families of workplace accident victims. The bill's description is "to reaffirm and enhance the workers compensation excusive remedy rule or doctrine."
The bill was passed by the House Banking and Insurance Committee on Wednesday after a contentious meeting. It now goes to the House Judiciary Committee, which led today's public hearing.
The public hearing drew remarks from people who had suffered workplace accidents or their surviving family members.
Also speaking were some of the lawyers who represent them. And remarks came from representatives of the coal and timber industries, particularly Allegheny Wood Products.
"The burden of deliberate intent makes it really difficult to compete with companies from other states," said John Crites, chief executive of Allegheny Wood Products. "With deliberate intent, I'm continuously in a lawsuit all the time."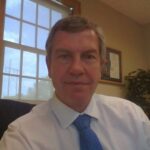 The executive director of the West Virginia Forestry Association, Eric Carlson, said the costs of maintaining insurance "is a barrier to getting into business." He said safety is a priority.
"Our safety record in the industry has been a challenge. It is a challenging job going out in the forests of West Virginia, the steep slopes, harvesting large trees to come down," he said. "Safety is our number one priority. It is important. We can't work without that, and without that kind of coverage, which is one accident away from total disaster."
More speakers told harrowing stories of workplace accidents.
Jonathan Barber, a Raleigh County resident, testified from the wheelchair he uses since an accident involving a continuous mining machine in an underground mine broke multiple vertebrae. " "It left me completely paralyzed for the rest of my life," Barber said, saying he has struggled to continue supporting his family.
Shelly Rosser of Logan County told the story of her husband's death, saying the installation of lights on a mine roof could have saved his life. Instead, her husband was on a rail car on a track in the mine that he hadn't been trained to operate. "He had no reason to know his head was approaching a wall rock and he needed to duck. So he collided with the wall and his skull separated from his body."
She said, "Workers compensation alone wouldn't have been enough" to make up for the wages lost after he died.
Similarly, Caitlin O'Dell of Nicholas County tearfully recounted losing her husband in a coal mine accident when he was crushed between two pieces of equipment, leaving his wife and newborn child. "I never got to say goodbye, and his son never got to say hello," she said.
She contended the company knew of the danger because of another employee's similar accident prior to that.
"I quickly became aware that the workers comp wasn't going to allow us the same lifestyle provided for our family. I eventually lost our home in foreclosure," O'Dell said. "The next company who knowingly and deliberately breaks the law should be held accountable for that action."
Ronnie Williams, a former saw mill employee, told the story of having his arm amputated in a belt head. "I really don't know what we would have been able to do without being able to file against the company. Workers comp wouldn't have been enough," he said.
His attorney, Bill Tiano of Charleston, later spoke and said the bill under consideration isn't actually the answer to the problem of high insurance costs for companies.
"The real issue seems to be accessibility of insurance for the timber industry. This problem did not happen overnight and we shouldn't wave a magic wand and try to make it go away," Tiano said.
"Everyone in this room likely has a relative who this law was designed to protect. Perhaps it was your grandpa or your dad. If you can look your grandpa in the eye and tell him you're proud you voted for this bill then by all means vote for it. A reasonable approach, I think, is to take a step back, look at the problem and try to correct it."