CHARLESTON, W.Va. — Gov. Jim Justice looked within to make his selection for the next director of the state Division of Natural Resources.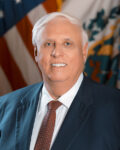 Justice announced Friday that he's chosen State Parks Deputy Chief Brett McMillion to lead the DNR.
"Brett's been in our system with the parks for 25 years, he's done an incredible job," Justice said.
McMillion grew up in Nettie, Nicholas County. He graduated from Richwood High School and earned his degree in Parks and Recreation from West Virginia University. According to the governor's office, McMillion has held administrative roles at Panther State Forest, Bluestone State Park and Pipestem Resort State Park
"I congratulate him in every way. I know he'll do a wonderful, wonderful job. He's got an incredible family and he's done phenomenal work," Justice said.
McMillion said he was "incredibly appreciative" to Justice for the appointment.
"I've been privileged to spend my entire career – over a quarter of a century – working outdoors in West Virginia, so I understand just how important our natural resources are to our state's economy and our efforts to market ourselves to the world," McMillion said. "I'm proud to carry the torch and am eager to get to work advancing the great work the WVDNR has accomplished since Governor Justice took office, Working closely with our Department of Tourism, State Parks, and Governor Justice, we will continue promoting the world-class outdoor recreation destinations we're blessed with in West Virginia."
McMillion replaces former DNR Director Steve McDaniel who announced his decision Jan. 19 to leave the position. He served until Jan. 31. Gov. Justice said Friday that McDaniel has agreed to stay on as a senior advisor.
Justice said he took several weeks to make his decision because of the importance of the job.
"Our natural resources and all the components that go with that, the hiring and selection of the head that's going to head-up the DNR is a tremendously important decision," Justice said.
McMillion and his wife live Oak Hill. The couple have two grown children. Their daughter is a middle school teacher in the Mountain State. Their son is a state police trooper.