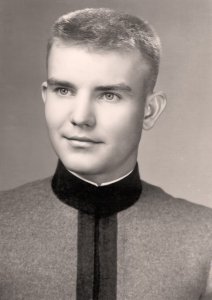 GASSAWAY, W.Va. — The founder of one of West Virginia's most recognized store brands has died. John Dave Heater died back on Friday at the age of 89. Heater was the founder and CEO of Go Mart convenience stores.
Heater was educated at VMI and then West Virginia University. He served in the Air Force and when he finished his hitch in the military he returned to West Virginia to take over his family business Heater Oil Company with his brothers Jim and Bill.
According to the company's website the company was the first to offer self-serve gasoline at a station in 1970 which they called Go-Tron. The first Go Mart was a two bay garage store with four gas pumps in Gassaway, West Virginia. the name was selected out of a contest among employees. It was the first gas station which also included a number of grocery items in the store.
John's plan used local contractors to build the convenience stores which today employ many of his family, friends, and fellow West Virginians. The company was a trail blazer in the modern day convenience store business. Go-Mart in the 1980's became the first stores to offer in-store cooking and a specialized blend of coffee beans ground in-store for the freshest coffee.
The store eventually grew to nearly 130 stores today across West Virginia and parts of Ohio and Virginia. The company remains headquartered in Gassaway. The company also supplies its own stores using fueling infrastructure developed by Heater's dad in the 1920s and 30s.
Brian Waugh, president of Par-Mart Convenience Stores, issued the following statement on Heater's passing.
"I consider myself fortunate in being able to be a vendor partner of John's, and a competitor of his as well. As I got to see him two different ways.  I was able to quickly appreciate the man who showed me that you could be from right here in West Virginia and run a billion dollar company. One that many over the years have come to try and emulate."
Heater was also a founding member of the Oil Marketers and Grocers Association of West Virginia. Current President of the organization Traci Nelson said Heater blazed the trail for a new industry.
"That took a lot of forward thinking to see what he could turn that company into. Nobody was doing that kind of thing back then, usually they were oil company owned gas stations, not convenience stores. He was very forward thinking and an entrepreneur at heart," she said.
Heater is survived by his three children, and nine grandchildren. The funeral service will be on Wednesday at Gassaway United Methodist Church. His visitation will be 11am-1pm, with the service starting at 1 p.m.