WHEELING, W.Va. — Michael Grove's road to the show took him from the fields in Wheeling, West Virginia to the iconic Dodgers Stadium in Los Angeles with many stops in between — and those in the 'Friendly City' are celebrating his journey.
His fans in Wheeling and around the Mountain State were glued to the game on Sunday as Grove made his MLB debut. The Wheeling Park graduate was the starting pitcher for the Los Angeles Dodgers against the Philadelphia Phillies. Grove was called up to the big league roster for a spot start and picked up a no decision in the Dodgers' 5-4 win over the Phillies.
Dwaine Rodgers, the Athletic Director at Wheeling Park told MetroNews there was one word that kept coming to his mind while watching Grove – belong.
"He (Grove) belonged. He just belonged. He looked like he belonged there. We are just so proud," Rodgers said.
According to Wheeling Park historian Pete Chacalos, Grove was the first Wheeling Park graduate to start in a major league game. Grove led the Patriots to the state tournament appearances in 2014 and 2015.
Mike McLeod, who coached Wheeling Park baseball during Grove's time in the red, white, and blue, told MetroNews he couldn't be much happier.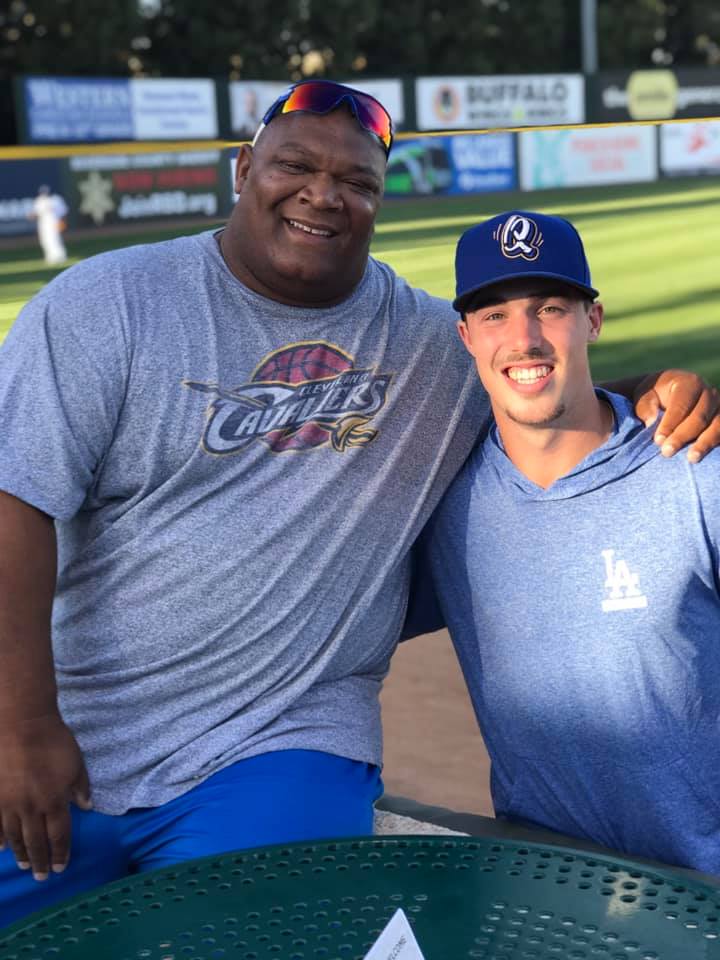 "You are just so proud that you were able to be a small part of what he was able to do moving forward. When you get a guy that is able to do that, he makes the whole area, valley and the whole town proud," McLeod said.
McLeod, who coached at Wheeling Park from 2013-2019, said he stays in contact with Grove and talks to him at least once a week. He said conversations often end with phrases such as 'love you' or 'care about you' because that's the connection he has with Grove.
McLeod said Grove keeps those connections in Wheeling and does not forget where he comes from, and that is part of what makes him special.
"Michael is just one of those kids where if you ever wanted your son to model themselves after someone, it would be him," McLeod said. "He doesn't forget where he comes from, he's still best buddies with people he grew up across the street from. Michael is not just a former player but he is a friend."
McLeod said he knows through personal experience just how tough it is getting to the big leagues. He was drafted by the Oakland A's in the '90s and said he was never able to make it to the level that Grove is at now.
Grove was selected by the Dodgers in the second round of the 2018 draft with the 68th pick. The selection was special as it came after Grove underwent Tommy John surgery in May 2017.
Grove pitched 3 2/3 innings on Sunday, allowing four hits and four runs. However, none of the runs were earned. A fielding error by Gavin Lux with two out extended the second inning.
Grove walked three batters and struck out three in 70 total pitches, as MetroNews Sports reported Sunday. He was seen discussing his game in the dugout with former Cy Young winner and All-Star Clayton Kershaw.
"He knows it's a long road. That was a good sample size. Michael is like Michael. If you saw his interview he's not pointing the fingers at anyone else. He's saying 'Hey I have to be better in that situation.' That's who he is," McLeod said.
Just wanted to hop on here and say I'm so grateful for all the support I've gotten this weekend, and especially for all the people back home that tuned in! Today was a dream come true!

— Michael Grove (@mgrove_2) May 16, 2022
In five starts this season with the Class AA Tulsa Drillers, Grove posted a 2.76 ERA with 22 strikeouts in 16 1/3 innings. He was recalled from Tulsa on Sunday. Grove remains on the 40-man roster but McLeod said on Monday morning it is likely Grove gets sent to AAA Oklahoma City in the coming days.
The 6-foot-3 right-hander spent three seasons at WVU from 2016-2018. Grove was an All-Big 12 Second Team selection as a sophomore in 2017, after being named to the league's honorable mention list a year earlier.
At Wheeling Park in 2014, Grove had a 1.20 ERA with 54 strikeouts in 33.2 innings in 2014 while hitting .488. Grove was named to the 2014 West Virginia Sports Writer's Association All-State First Team.
Grove, a multi-sport star in high school, was also named the 2014 OVAC Player of the Year. He is the son of Jeff and Stephanie Grove.
Rodgers, whose son Spencer played with Grove at Wheeling Park, said he knew early on that Grove was a special kid – based on the way he helped others at Wheeling Park.
"You can tell a lot about a young man of how they treat the kids younger than them. A lot of times you'll see kids who are the stud, they are not always kind to the young ones. Coaches always reach out and say you need to be a leader and help the young guys. Michael was that guy," Rodgers said.