CHARLESTON, W.Va. — Most West Virginias were getting ready for the weekend on June 29, 2012. The weather was clear on a Friday afternoon, but there was the chance for thunderstorms, some of them potentially strong, for the evening.
During the mid afternoon hours, a line of storms like nobody had ever seen crossed the Ohio River and left a trail of destruction from Columbus, Ohio to Virginia Beach in a diagonal direction. Very little of the Mountain State was spared.
"As I was sitting in the front door, it actually ripped the roof off of my porch and flipped it up onto the roof," one eye witness told MetroNews.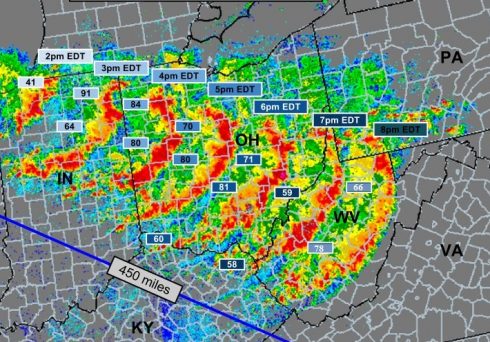 Another shared the rapid transition.
"Just watching brown clouds blow in, then the transformer blew. Wind hit me and I fell on the ground covered in debris. I ran up on the porch and saw debris flying down the street," said another witness.
The storm didn't last long–but the destructive power was unprecedented. More than 650,000 West Virginians were instantly out of power and close to 85 percent of the state's population was affected in some way.
"We've had storms that have had hundreds of thousands of customers out of service before, but never with the kind of damage we've had to our transmission system like we have this time," said Mon Power President Jim Haney.
Appalachian Power company wasn't much better.
"This system we built was built over decades. This storm took down a significant amount of that system and we're trying to rebuild it in a week," said Appalachian Power Company President Charles Patton.
What most didn't know as the storm ripped through their neighborhood that Friday afternoon was they weren't alone. It had ripped through everybody's neighborhood in West Virginia with equal fury and destruction. It was something we came to know as a "derecho" as first described on the air during MetroNews continuous coverage  by Dr. Joe Sobel of Accuweather.
"This was not a bunch of different thunderstorms. This was one system, what we call a derecho, that formed out in the Plains states and moved steadily from west to east," Sobel to MetroNews.
Listen to "Chris Lawrence Derecho 10th Anniversary" on Spreaker.'
The storm moved rapidly, but chewed up everything in its path. Ancient trees were splintered, power lines, event the high 760 KV transmission lines were in a tangled heap beneath crumpled towers. Governor Earl Ray Tomblin immediately declared a state of emergency in nearly every West Virginia county. The National Guard was activated to help clear downed trees to get power crews into hard to reach locations for restoration. Elsewhere, National Guard troops delivered water, food, medicine, and set up cooling stations.
"I saw some of the most historic trees in West Virginia down and power lines down. There wasn't a lot of physical damage to homes, but there was some," said Alderson Mayor Joe Veazy at the time.
Teresa White with the Fayette County Office of Emergency Services echoed the same story heard almost statewide.
"There were trees and powerlines down. It was horrible," she told MetroNews.
"It was an act of God and we've just got to work through it," said Governor Earl Ray Tomblin at the time.
It took more than ten days to fully restore the power service across the state. With the exception of the most northern parts of the northern panhandle, the destruction across West Virginia from the 2012 Derecho was absolute and no community was spared. It remains one of the single largest disasters which impacted the highest number of people in state history.