(Hershel "Woody" Williams: 1923-2022)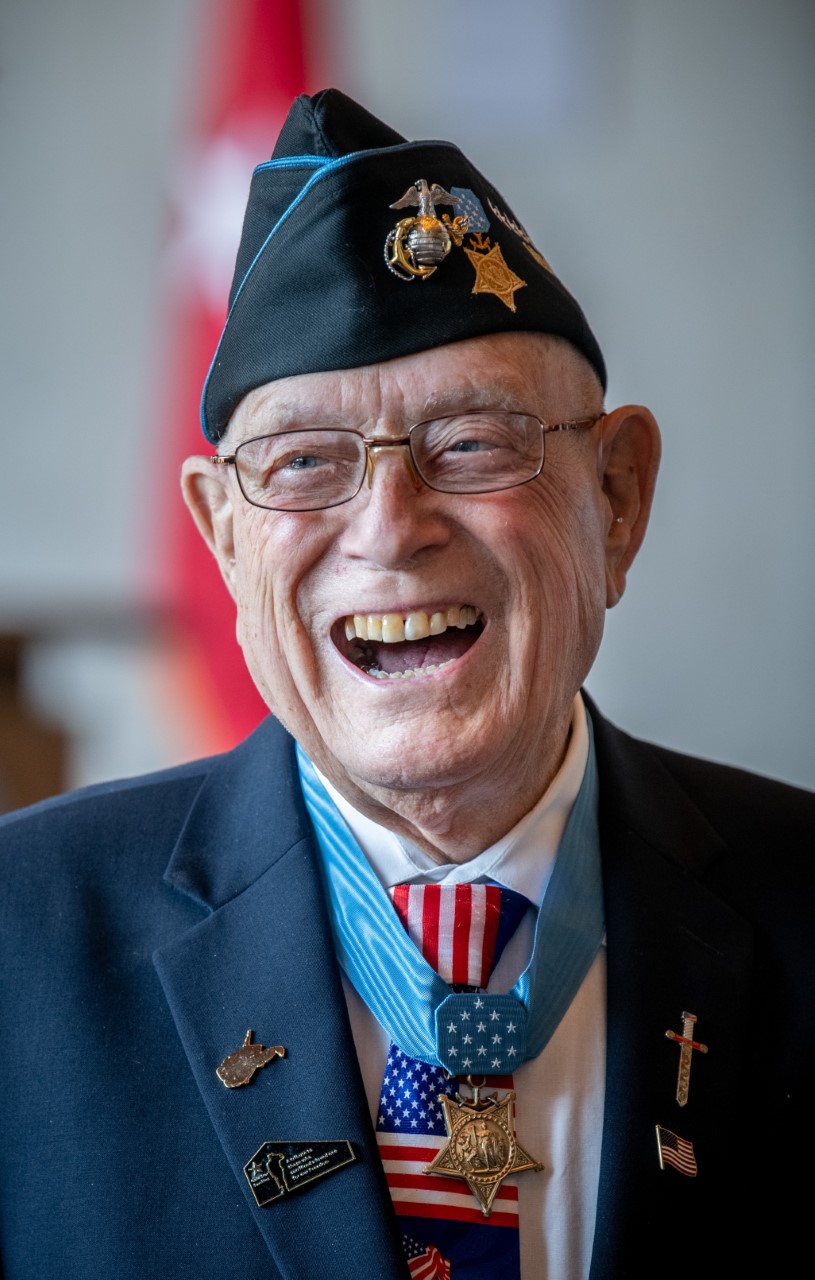 The battle for Iwo Jima was a seminal event of WWII.  American forces were fighting their way closer to Japan, but Japanese fighter planes taking off from the Pacific island were intercepting American bombers.
According to the WWII National Museum, "The U.S. determined that Iwo Jima must be captured."  A U.S. bombardment of the island was followed by a Marine invasion in February 1945.
Corporal Hershel "Woody" Williams, of Marion County, West Virginia, was among the 70,000 Marines charged with dislodging the 18,000 Japanese soldiers dug in on the spit of land that was only two-miles wide and four-miles long.
On February 23, the 21st Marines, 3rd Marine Division was attempting to open a lane for the infantry to advance. Williams, covered by four riflemen, used his flame thrower to take out seven Japanese pillboxes over the next four hours while dodging withering enemy fire.
That same day, from a distance, Williams saw his fellow Marines and one Navy corpsman raise the American flag atop Mount Suribachi.  The event, captured by an Associated Press photographer, became one of the iconic images of the war and served as model for the Marine Memorial at Arlington National Cemetery.
The military awarded Williams the Medal of Honor "for conspicuous gallantry and intrepidity at the risk of his life above and beyond the call of duty."
Williams' service did not stop at the end of the war.  He returned to West Virginia and spent a lifetime as a tireless advocate for veterans, whether with the Veterans Administration or simply volunteering for causes to benefit those who served and their families, particularly Gold Star Families who had lost immediate family members during a conflict.
Those who knew Williams—and it seemed he never met a stranger—were awed by his heroics and charmed by his humility and warmth.  He was a happy warrior who continued to fight for veterans to the end of his life.  His longtime friend, Senator Joe Manchin, who saw Williams just days before he died, said Williams gave him instructions on veterans' issues that needed his attention.
When admirers credited him for his bravery and accomplishments on Iwo Jima, he would remind them about the four riflemen who protected him that day who did not make it home. When someone would introduce him as a Medal of Honor "winner," he would politely, but firmly, correct them. "You don't 'win' the Medal of Honor; you are a recipient."
His death produced an outpouring of condolences and praise for his service.  The Marine Corps said, "Woody captured the warfighting spirit of all Marines—a combat-proven leader whose lifelong dedication to all service members and Gold Star families began with his actions at Iwo Jima.  His legacy as a warrior and advocate for veterans will live on."
What makes a person act heroically? The late General Norman Schwarzkopf said, "The truth of the matter is that you always know the right thing to do.  The hard part is doing it."
Woody Williams knew what needed to be done, whether it was risking his life on Iwo Jima or advocating for his fellow veterans and their families. He did it even when it was hard.
He served his state and his country with uncommon distinction in war and peace. He epitomized what it meant to be part of the Greatest Generation. We owe him our eternal gratitude.